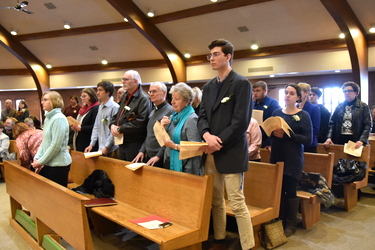 The past year has been one of recovery and renewal for Arrin Farrar from Saint Paul the Apostle Parish, Bangor.  A year ago this month, he was seriously injured in a small plane crash.  It meant surgery, hospital stays, and ongoing physical therapy, but it also brought him to the Catholic Church.
"After this accident, I have been devoting more and more time to my church and getting really in tune now with my faith," he said.
While recuperating in the hospital, Farrar said he saw a feature on Saint Padre Pio on television. He said it was that coupled with the crash itself that led him to reevaluate his life and to the decision to join his wife and children as members of the Church.
"I've been going to Catholic church for 20 years, but it was just going to church, and never going up. I never received Communion or anything," he said.  "This is going to be huge for me and my whole family."
Farrar was among those who participated in the Rite of Election and Call to Continuing Conversion celebrated by Bishop Robert Deeley at Notre Dame Church in Waterville on Sunday, March 5.  During the ceremony, parishes present to the bishop those preparing to be baptized and/or receive the other initiation sacraments at Easter Vigil.  The catechumens (those never baptized in any Christian faith tradition) and candidates (those who were baptized as Christians but were not confirmed or made their first Communion) then publically express their desire to be baptized or to be received into full Communion with the Catholic Church.
"We come together for one of the most hopeful and meaningful events in the annual life of the Church. Today, we celebrate the fact that the Gospel is alive and its message is being heard and passed on," Bishop Deeley said. "Today, we pray over them as they begin this very special season of Lent, one in which they deepen within themselves an appreciation for the gifts that they will receive in being part of the faith community within the Catholic Church."
More than 110 catechumens and candidates participated in the Rite of Election and Call to Continuing Conversion over the weekend. The bishop also presided over ceremonies at Holy Rosary Church in Caribou and at the Cathedral of the Immaculate Conception in Portland.
For the catechumens and candidates, it is an important milestone in their faith journeys.
"Going through the Rite of Election felt really special. Having sponsors, godparents, being surrounded by people who are going through the same thing as me, I felt a real sense of community with that, also having the whole congregation voice their support was really touching," said Mariel McGuire, originally from Nova Scotia but now a member of Saint Michael Parish, Augusta.
McGuire said that joining the Church is something that she has been thinking about for quite some time, but after getting married this year to her husband, Kevin, who is Catholic, she felt the timing was right.
"It's important to me and my family because I want us to always have God as a presence in our life. I want our children, in the future, to grow up knowing the Church and being part of the Church community. And, also, I realize how important it is for me, being a spouse of Kevin's, to be able to be spiritual and supportive of him as well," she said.
Kristina Brown, a candidate from Saint Paul the Apostle Parish, said her journey to the Church began when she started listening to The Presence Radio while driving to visit her father when he was at the Togus Veterans Affairs Medical Center. She said it gave her an appreciation for the Catholic Church that she had never had before.
"I had never had any understanding of Catholicism as the Church that Jesus started and that there is that continuous line, and I think that's what really grabbed me," she said. "It wasn't until I started listening, and learning, and reading about what the Catholic Church is really about that it started to hit home."
Joey Boggs, a catechumen from Corpus Christi Parish, Waterville, says the depth of the Catholic Church is also what drew him in.
"This is the only one that traces back. That's why I thought this was the Church to go to," he said.  "It's traceable all the way back to Jesus."
Boggs started attending Mass when he moved in with his grandparents, and he decided he wanted to have it become a greater part of his life.
"I've been going to church every Sunday with them, and then, I just decided that I wanted to get more involved with the Catholic Church and increase my faith and get closer to God," he said.
Boggs already serves as a greeter during Mass and wants to become an extraordinary minister of holy Communion once he receives the sacraments.
Anna Gosselin, a high school student from Hermon, said she, too, was influenced by her grandparents, who are active in the church. She said whenever she attends Mass, she enjoys it, so she decided she wanted to become Catholic.
"It just really interested me, and I always felt something was missing, that I just needed something more, and within the last year, I've just felt a lot more drawn to the Lord and the Church and being involved. I'm just very happy with how things are turning out now," she said.
John Curtin, age 16, from Saint Brendan the Navigator Parish, Camden, said he is looking forward to entering the Church and being able to receive the sacraments.
"I've gone to church for a long time with my parents, and I really wanted to receive the sacraments," he said. "I just wanted to find out more about God."
All the candidates and catechumens said they have felt tremendous support throughout their time of preparation.
"I really cannot thank them enough for helping me with this lifelong journey," said McGuire.
The catechumens and candidates will now spend the season of Lent in prayer and final preparation for the Easter Vigil when they will be baptized and/or be confirmed and make their first Communion and welcomed into the Church.