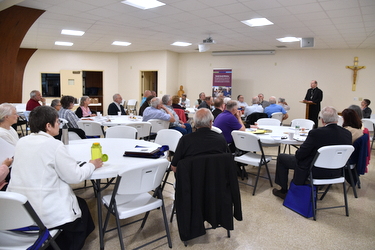 Spending time in jail isn't on most people's "to do" lists, but those involved in prison ministry say, to them, it is a blessing.
"I feel a special call," said Denise Ducharme, from Christ the King Parish, who volunteers at the Somerset County Jail in Madison. "The inmates, they are lonely. They are scared. They are almost hopeless, and I want to be able to bring some hope and some light back into their lives."
"What those guys get from us coming in is only half as good as what we get by being there," said Jeff Miller, from St. Paul the Apostle Parish, who volunteers at the Penobscot County Jail in Bangor.
Across Maine, there are approximately 120 Catholic parishioners engaged in prison or jail ministry. Out of the Diocese of Portland's 30 clusters, 14 have regular programs.  Four religious congregations are active in prison ministry as well.
While wonderful work is being done on the local level, the Diocese of Portland is looking to see what it can do to help support, sustain, and grow this invaluable ministry. For the past two years, through the work of Catholic Charities Maine Parish Social Ministry, the diocese has been studying the issue, reaching out to those involved in the ministry and to correctional facilities to find out about both the successes and the needs.
"What's working well? What would they like to see? What are stumbling blocks right now?" explained Michael Smith, director of mission for Catholic Charities.
With four priority areas identified, the diocese and Catholic Charities organized a first-of-its kind gathering, which brought together those who work in jail and prison ministry.
"Each of you brings great experience; particular, helpful resources; and best practices that can be of benefit to each other and, most importantly, to those you serve. We also have the great opportunity to combine our efforts to reach out to national organizations and resources to support the local work each of you is doing. We look forward to working with you to strengthen this ministry so that it can continue to provide the love and mercy of Jesus Christ to all those in need in our state's correctional facilities," the bishop told them, during an opening Mass. "Each of you has done profound work with every person you have ministered to, and collectively, the Church's response in Maine is quite amazing."
The four key areas discussed at the workshop were volunteer recruitment and training, a concern since many in the ministry are aging; providing materials and perhaps establishing a curriculum; examining how best to work with other Christian denominations also involved in prison ministry; and helping inmates with reentry into society.
"We've got to do better with helping them transition back into the community," said Pat Phillips, of Saint Kateri Tekakwitha Parish, Calais, who has worked in prison ministry on and off for years. "We can't go from completely caring for somebody to letting them on their own to get a job, get a house, take care of their bills, support their family."
During the daylong conference, held June 9 at Notre Dame Church in Waterville, the participants shared their concerns, as well as their joys and their passion for their ministry.
"It grabs you," said Deacon Frank Chambers, who serves at the Maine Correctional Center in Windham. "Once you have a volunteer, you generally have them, which I understand, because I got hooked 25 years ago."
"The value to the prisoners and the value to me, as well, in building my own faith and my own love for others is what's kept me involved," said Adam Stearns, of Christ the King Parish, Skowhegan.
There are both similarities and differences among the ministries.  Some offer Communion services, others are focused on discussion and personal reflection.  Some programs have volunteers who visit weekly, others monthly.
The goal now is for the diocese to take the input received and determine the best ways to help the various ministries move forward and thrive. As a result of the workshop, two subcommittees were formed, one that will focus on the reentry process and another that will look at recruiting and supporting volunteers.
"We have a great opportunity to grow this ministry. It is a time to get more and younger people involved in the ministry," the bishop said. "It is also a time to uplift the great work that all of you are doing throughout the diocese so that all will know of it. It is through these personal encounters and stories that people are introduced to the work that God has called them to, and prison ministry will grow as a result."