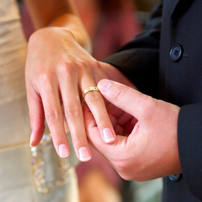 "The intimate partnership of married life and love has been established by the Creator and qualified by His laws, and is rooted in the conjugal covenant of irrevocable personal consent. Hence by that human act whereby spouses mutually bestow and accept each other a relationship arises which by divine will and in the eyes of society too is a lasting one."
-Gaudium et Spes 48
---
Marriage establishes a holy covenant among three: one man, one woman, and God Himself who creates, saves, and blesses us in love.
Through God the Father, marriage irrevocably joins the man and woman as one flesh, thereby making them stewards of God's unitive and creative power.
Through Jesus Christ, the Son of God, marriage receives the dignity of a sacrament, becoming a reflection of the ever-faithful bridegroom, who loves, forgives, and lays down his life for his bride, the Church.
Through the Holy Spirit, marriage unites man and woman in an indissoluble communion of life and love.
Marriage is thus more than a legal contract between two parties; it is an icon of our Triune God, in whose image man and woman have been created from the beginning.