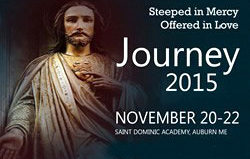 Steeped in Mercy, Offered in Love
November 20 - 22
Saint Dominic Academy, Auburn 
Event Overview:
Journey is a gathering of youth from around the state who seek to grow and deepen in their relationships with one another and with Christ.  Based on the "Youth 2000" retreat, Journey is centered on Christ, particularly as we encounter him so intimately in the Scriptures, the Eucharist, and confession.  After being steeped in these experiences of his mercy, Journey presenters also invite young people to respond to Jesus by faithfully serving God and neighbor in union with Our Lady and all the saints.  
 
Schedule:
Registration begins at 5 p.m. on Friday, November 20.  The retreat starts at 6:30 p.m.
Lay, clergy, and religious brothers and sisters from all over the region will lead talks and guide youth through times of prayer and various opportunities for conversation and fellowship.   Priests from the diocese will be present to hear confessions for many hours each day and to offer Mass on Friday and Sunday.  Bishop Robert Deeley will join us to offer the 11 a.m. Mass on Saturday and to spend time with the youth.  Journey 2015 concludes after lunch on Sunday at 1 p.m.
 
Cost:
The cost for the event is $90 per student or parish chaperone.  This includes a T-shirt, programming, lodging, and all meals for the weekend.  If a family is not able to afford the full cost, youth ministers should contact us at journey@portlanddiocese.org so that we can send a scholarship request form.  It is very important to us that financial concerns not keep any youth from participating.
 
Lodging:
Youth and chaperones will spend the night in classrooms at Saint Dominic Academy on Friday and Saturday night.  If the number of youth is too large to be accommodated in the school, the boys may be bussed to another location.  All participants should bring a sleeping bag and pillow in addition to toiletries.
 
Transportation and Safe Environment:
Parishes are responsible for providing all transportation to and from Journey 2015 in accordance with diocesan policy.  All youth must be accompanied by adults, and parishes must ensure that there is at least 1 adult for every 7 youth participants.  All adult chaperones and volunteers must provide Protecting God's Children documentation while registering at the opening of the event.
 
As the date approaches, more information will be forthcoming on what to bring, the schedule for the weekend, and the list of presenters.  If you have any questions or suggestions, please email us: journey@portlanddiocese.org.
Forms:
Chaperone Medical Release Form
Student Flier with Medical Release Form
Posters: