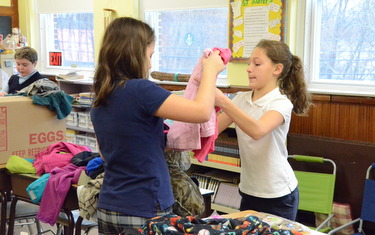 Students at Saint Thomas School in Sanford put their fashion sense to good use when they sorted, matched, and bundled clothes to be donated to other area schools.   As one of several Catholic Schools Week service projects, the school held a clothing drive, collecting new and gently used children's clothing, along with new pairs of socks and underwear, to be donated to children who could use them.  Members of the sixth-grade class then spent a morning putting together outfits, each containing a the same size top, bottom, socks, and underwear.
"We did the clothing drive becasue we wanted to show that we're not just going to stay in school and do stuff for oursevles. We want to show that we care about the public, and we can actually donate and do stuff that is helping the community," says John Paul Alexander, a fifth grader.
"We're doing the clothing drive to help people who are less fortunate," says Oliver Genest, a sixth grader. "I think we're also doing it just to be kind and to show that we're not just thinking about what we're doing in this school just for us. We're thinking about the other people in the community and that they need help."
"There's so many kids that don't have a lot of clothing, and it's nice for us to give them clothing because we're Catholic, and we're friends with everyone," says Azline Maurais, a fifth grader.
In addition to the clothing drive, the school is holding a collection for the Sanford Food Pantry and a dress-down day during which students can pay $1 to dress casually with the proceeds benefiting Camp Waban, a camp where people of all abilities can boat, swim, hike, and enjoy other outdoor activities. The students are also teaming up with Saint Thérèse of Lisieux Parish's faith formation and youth ministry programs on a bake sale to benefit a parish in Haiti.  And, students are making Valentine's Day cards for veterans and for residents of local nursing homes.
"We're giving them to the nursing homes and the veterans, and it's basically showing them that we want you to feel better, and we care about your service," says John Paul. "It makes their day. I went to a nursing home not long ago, and I showed up, and they're like, 'Oh, you're so cute.' It shows that they like to get stuff from little kids and that they enjoy it a lot."
"We did a presentation to the entire school on the corporal works of mercy and one of them is visiting the imprisoned, and I think of it as, they're in there, and they can't leave unless somebody comes," says Will Kiley, a sixth grader. "So, the Valentine's Day cards are a good way to show them that there are still people out there who care."
During the week, the students and staff also showed their appreciation for a very special volunteer, Sister Elizabeth Cobb, RSM.  Sister Elizabeth is celebrating her 62nd year as a Sister of Mercy, much of it spent in education including teaching at all levels from elementary school to college, serving as a school principal, and serving as superintendent of Maine Catholic Schools.  For the past eight years, Sister Elizabeth has volunteered at Saint Thomas School, first assisting in the kindergarten class that was being taught by Sister Karen Hopkins, RSM, and now working with students who excel in math.
"The presence of the sisters is such a gift to our school community, and they just bring so much to our school," says Donna Jacques, principal.
During a morning Mass at Holy Family Church in Sanford, the students presented Sister Elizabeth with flowers and with a heart-filled piece of artwork they made for her.  A hospitality tea was also held in her honor.
Sister Elizabeth was clearly touched by the show of gratitude, which the school managed to keep a secret.
"I don't even have the words to tell you. I just appreciate their appreciation," she says. "I have retired, but you can't get school out of your blood. It's just part of me, and I love being here."