SANFORD---At the end of the training, a student at St. Thomas School in Sanford had a hand in the air with a look of disbelief in her eyes, still absorbing the lessons of the day.
"What can we do to help?" she said.
The sentiment is a common one for those who go through "In Their Shoes" training. The training, provided by Catholic Charities Maine's Refugee and Immigration Services, is an interactive experience for corporations, agencies, community organizations, and schools that educates participants on the path of a refugee, inviting them to walk for a moment "in their shoes."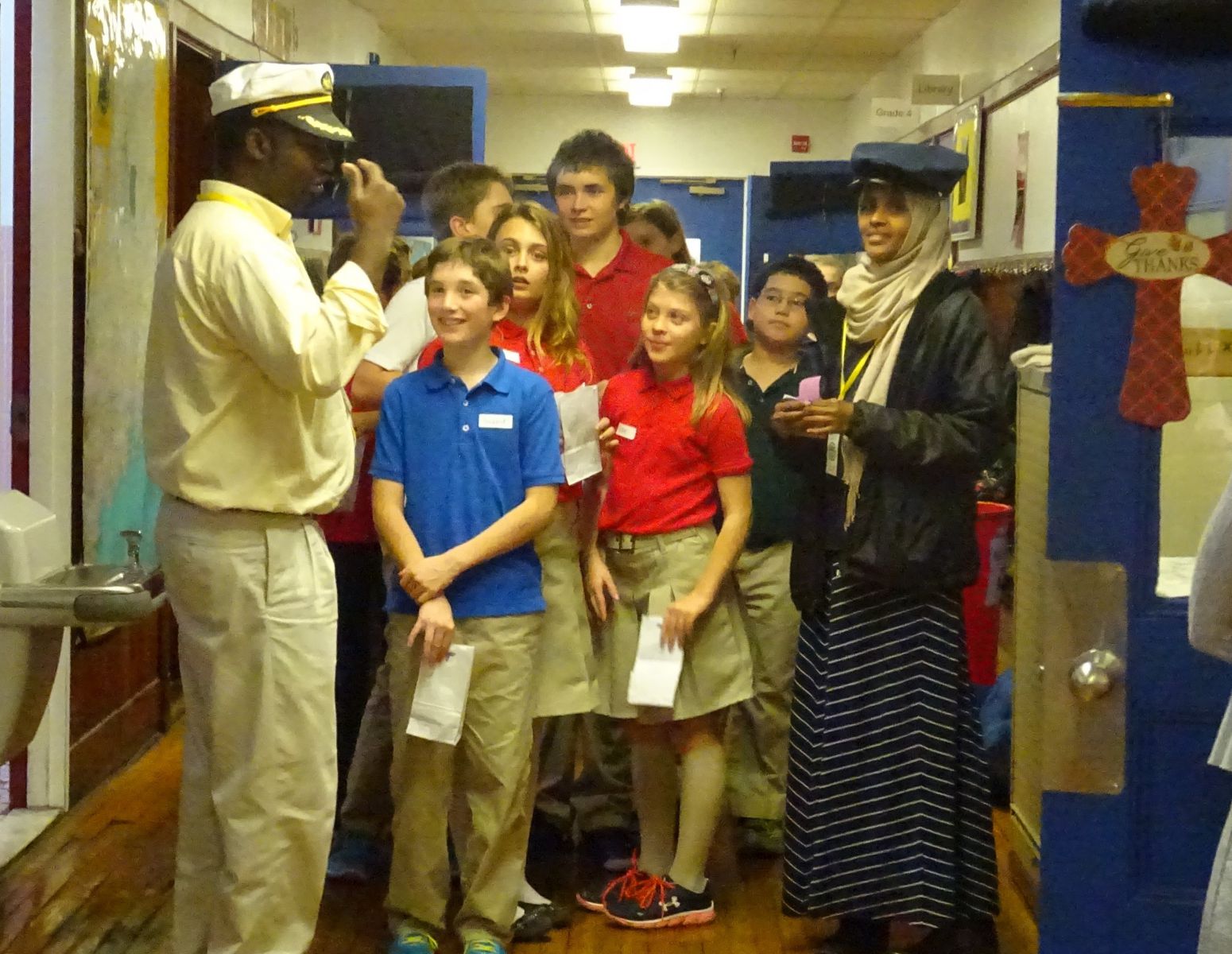 Recently, representatives from Catholic Charities Maine offered a look at that journey to 20 sixth and seventh graders at St. Thomas. The students had two minutes to write down five things that they would take with them, a harrowing experience that many refugees confront. Only a small portion of the students made it to the "refugee camp" as some looking to escape were "detained at the border" and others were "granted asylum." The students then heard personal stories from the presenters that described the many challenges facing those seeking safety. The group also learned the difference between a refugee, a detainee, and an asylum seeker.
"I think what the students took away from it the most was a greater awareness of Maine's role in assisting refugees once they are here and how organizations like Catholic Charities play a part," said Becky McCann, a teacher at St. Thomas. "It was truly educational for them to learn from people who have experienced it themselves."
"The students said that they learned a lot about the long and difficult process that refugees go through," said Michael Smith, director of mission for Catholic Charities Maine. "They left knowing that they need to share this information with others to help Maine welcome refugees to our population."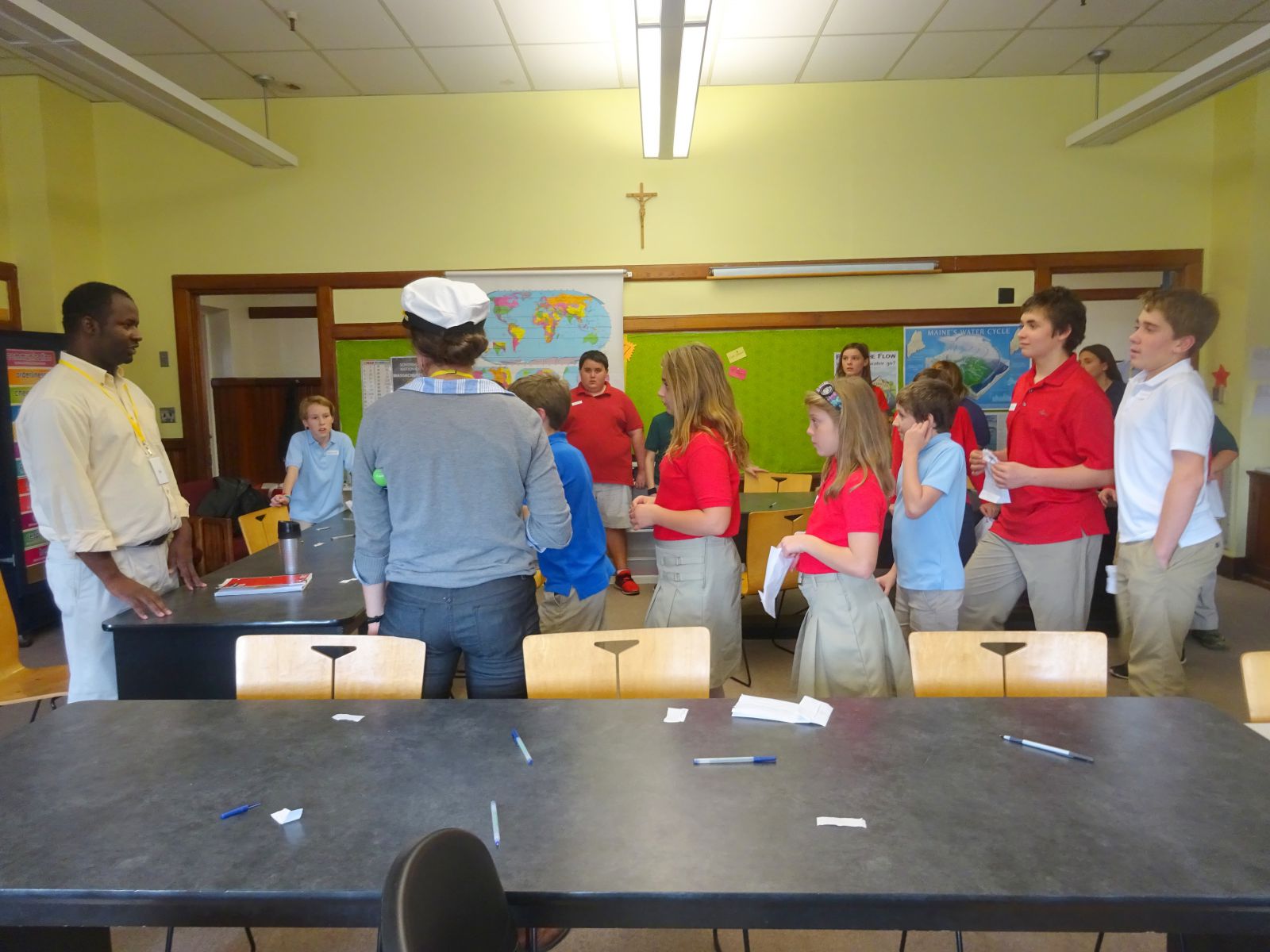 Moved by the experience and a struggle for freedom that they can only imagine, the students are now organizing a service project stemming from the lessons learned at the training.
Catholic Charities Maine's Refugee and Immigration services has offered "In Their Shoes" training in over ten parishes; public and private schools; colleges; businesses; and organizations, including the Bureau of Motor Vehicles, the Androscoggin Chamber of Commerce, and the Maine Department of Health and Human Services.   
In addition to promoting awareness, Refugee and Immigration Services delivers countless services to help refugees discover a path to self-sufficiency and become productive, happy members of their Maine communities. The federal government approves the number of refugees to be admitted to any particular state, and then provides funding to organizations like Catholic Charities Maine to help acclimate them to their new lives in the U.S. With the funding, Catholic Charities Maine helps refugees find housing; improve their language skills; ensure children are enrolled in school; and obtain jobs or job training. The organization also provides cultural education around food shopping, financial management, transports, and general life skills.
For more information about the program or to schedule an "In Their Shoes" training, contact Tarlan Ahmadov, program director, at (207) 523-2729 or tahmadov@ccmaine.org.
Interested parties can also contact Catholic Charities Maine's Parish Social Ministry at psm@ccmaine.org.