SANFORD---In an effort to promote awareness for the plight of persecuted Christians around the world, youth ministry members at St. Thérèse of Lisieux Parish in Sanford will spend an evening living in a mock refugee camp, eating what refugees eat, listening to their stories, and gaining a better understanding of the high price many believers pay for remaining faithful to Christ.
"Exile Night" will be held on Saturday, November 12, after the 4 p.m. Mass at Holy Family Church on 66 North Avenue in Sanford. The young people will proceed to "camp" which will be held outdoors. Their electronic devices will be taken away; they will be offered a small amount of food; and they may only bring a sleeping bag or blanket.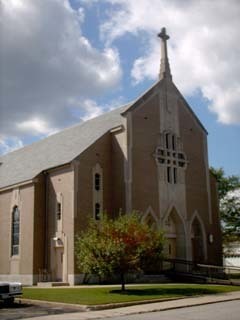 "In Northern Iraq, radical Muslims spray paint the Arabic letter 'N' on the homes and businesses of Christians. The believers were publicly identified as Christ-followers and given a choice to convert to Islam, leave, or die. This special event will allow students to experience a little of what our exiled brothers and sisters face every day," said Carol Marceau, the organizer of "Exile Night."
During the "camp," the students will be shown videos provided by Voice of the Martyrs (VOM), a non-profit, interdenominational organization with a vision for aiding Christians around the world who are being persecuted for their faith in Christ. The videos will be focused on the subjects of sacrifice, courage, joy, forgiveness, perseverance, and faithfulness. A personal story from a persecuted believer will be read after each video.
"The students will also write letters to families who have suffered through persecution and refugees," said Marceau. "The letters will be prayed over and sent along with items like Band-Aids, toothbrushes, combs, and other personal care items. We'll send them to VOM and they will distribute the packages."
In addition, the students will participate in a sing-a-long and compete in games and activities popular in the Middle East. Marceau cautions that "Exile Night" is not designed to promote anger towards the Muslim faith in any way.
"In fact, many Muslims would join us in condemning the atrocities," she said. "The goal is to draw the youth into fellowship with their persecuted brothers and sisters and inspire the youth to pray for them. Our desire is for them to recognize the persecuted followers of Jesus as their brothers and sisters in the family of God and to embrace them in unity."