PORTLAND---Thousands of local residents will join many returning individuals and families to enjoy one of Maine's warmest and beloved neighborhood street festivals next week.
The 92nd annual St. Peter's Italian Bazaar is set for Federal Street in Portland on August 11-13, a gathering of generations proudly celebrating the heritage, family, and faith of a special community. The bazaar is held in mid-August each year to commemorate the Feast of the Assumption of the Blessed Virgin Mary and the Feast of Saint Rocco.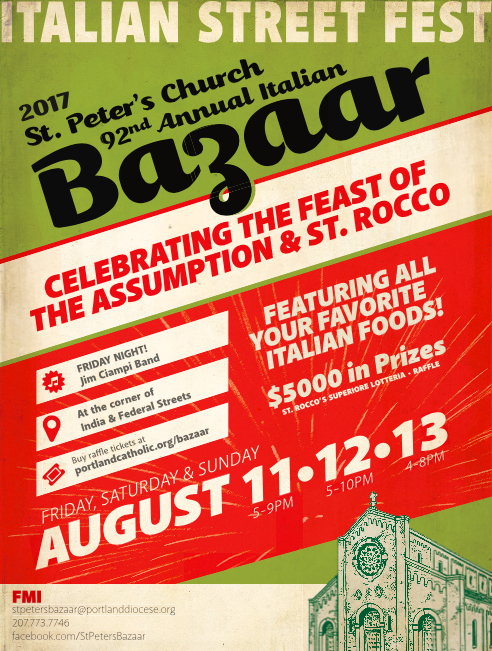 As part of the festival, Bishop Robert P. Deeley will celebrate a special Mass at St. Peter Parish, located on 72 Federal Street, on Saturday, August 12, at 4 p.m. The Mass will include hymns in both Italian and English and be followed by a procession in which the statues of the Blessed Virgin Mary and Saint Rocco will be carried into the street.
Handmade Italian food and pastries, carnival games for the children, booths, and live music highlight the schedule all weekend, with special events planned each day.
On Friday, August 11, the bazaar will be open from 5 p.m. to 9 p.m. with performances by the Jim Ciampi Band and other musicians.
On Saturday, August 12, following the 4 p.m. Mass, the bazaar will be open from 5 p.m. to 10 p.m. The daring can attempt to climb the 'greased pole' with the objective being to touch the top of a metal flagpole which is covered in axle grease.
On Sunday, August 13, the final day of the bazaar (4 p.m. to 8 p.m.) will feature the drawing of the Superiore Lotteria that includes $5,000 in prizes.
There is also an opportunity to order cannolis, tiramisu, limoncello, and almond cake in advance this year. Interested parties can contact Nancy Taliento-Goodwin at egoodwin@maine.rr.com to pre-order the delicious pastries for an early pickup.
For more information about the bazaar, including updates throughout the weekend, visit the event's Facebook page.