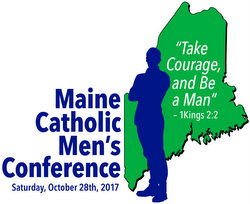 Thank you for registering for the Maine Catholic Men's Conference, which will be held Saturday, October 28, at the Cathedral of the Immaculate Conception, 307 Congress Street in Portland.
If you are paying online, please click here to register.
If you are paying by check, please fill in the registration form below and send checks to: Men's Conference, 510 Ocean Avenue, Portland, ME 04103.
The cost of the conference is $50 per person. 
Teens and young adults ages 18-22 $30 is per person.