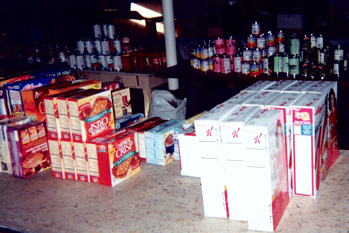 Every Tuesday and Wednesday, from 9 a.m. until noon, the Dominican Sisters hold a garage sale to benefit the Loaves & Fishes Food Pantry and Clothes Closet.  Located at the sisters' convent in Sabattus, Loaves & Fishes has been providing food and clothing to area residents in need since 1997.   The food pantry serves residents of all ages, regardless of religious affiliation.  Their clients have low or moderate incomes.
Loaves & Fishes is operated by a board of directors comprised of community members, active and retired business professionals, and clients.   Thanks to the support of the Dominican Sisters, its administrative costs are low.
The Dominican Sisters are members of an international community called to preach the Gospel of Jesus Christ in word and in action. The Dominican Sisters of Sabattus live the charism of prayer, community, study, and ministry.  They have served in Sabattus since 1927.

If you would like to learn more about the sisters or their ministries, you may visit their website, email Sister Lucille Fournier at lfournier@sabattusdominications.org, or Claudette Therriault at ctherriault@myfairpoint.net.