PORTLAND--- Catholic Charities Maine's Parish Social Ministry (PSM) program provides guidance and Catholic social teaching education to empower parishioners to serve people of all faiths, while the organization's Refugee & Immigration Services (RIS) program helps individuals and families seeking compassion and stability in America.
The two programs, both designed to serve the most vulnerable, have collaborated to create "Train the Trainer," a new initiative that encourages and prepares parishioners to educate their own communities on the meaning and importance of refugee resettlement in Maine.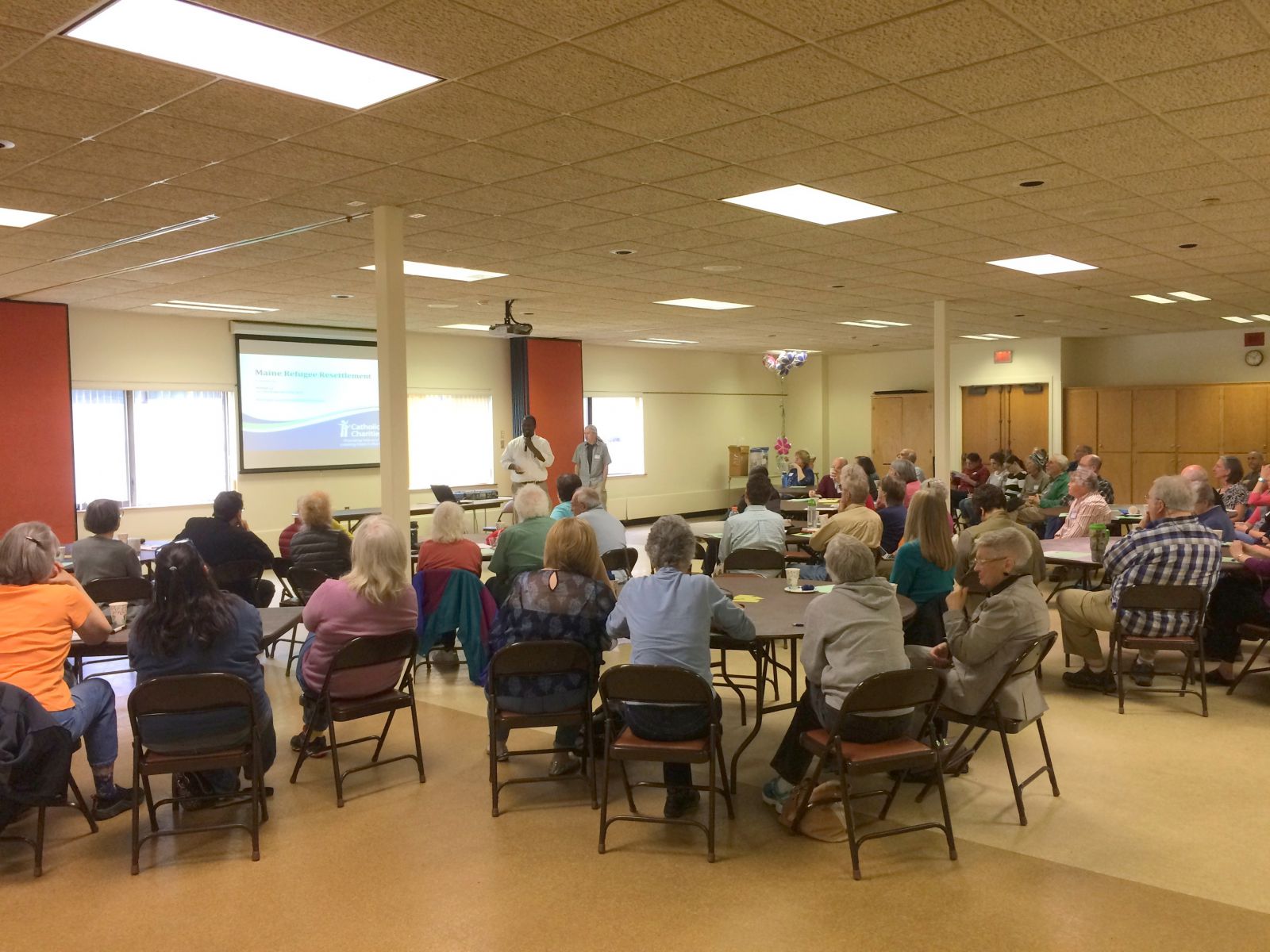 "This joint effort welcomes volunteers to workshops to impart a deeper understanding of our efforts to help refugees, many of whom fled from violence on a journey for peace," said Michael Smith, director of mission for Catholic Charities Maine. "As part of 'Train the Trainer', participants also learn more about Catholic social teaching and how RIS, by its very existence, is welcoming the stranger."
In February, many parishes sent representatives to a "Train the Trainer" workshop in Augusta to learn how to offer presentations locally at their own parishes. At the end of the workshop, participants were given a "tool kit" which included materials and resources to educate and engage their respective parishes.
Since the February training, local presentations, conducted by those trained at the workshop, have been offered in Waterville, Bangor, Houlton, and Camden.
"The local workshops are broken up into several segments focusing on a variety of topics, including Catholic social teaching on immigration and the movement of peoples, the RIS approach to assisting refugees, and the ways in which parish communities can offer support," said Smith.
Additional local sessions are already planned for Augusta, Belfast, and Rockland.
"This program is truly informing local residents about the plight of refugees and shows the practical ways to help them as they move into their new communities," said Bill Wood, a parish outreach specialist for Catholic Charities Maine. "The workshop and discussions are positive, productive, insightful, and inspiring."
Part of the funding for the "Train the Trainer" initiative came from POWR (Parishes Organized to Welcome Refugees), a United States Conference of Catholic Bishops program that aims to help dioceses recruit and train parish and community volunteers on how to effectively help refugees as they adjust to life in the United States. Catholic Charities Maine's Parish Social Ministry program is funded by the annual Catholic Appeal.
Maine parishes interested in hosting an interactive and educational refugee presentation in their community can contact Catholic Charities Maine's Parish Social Ministry at (207) 523-2772 or psm@ccmaine.org.