PORTLAND---Each of Maine's Catholic schools is unique, featuring diverse histories, traditions, and locales. Though the schools differ in many ways, there is one characteristic that can be observed and felt upon spending time in any of the schools.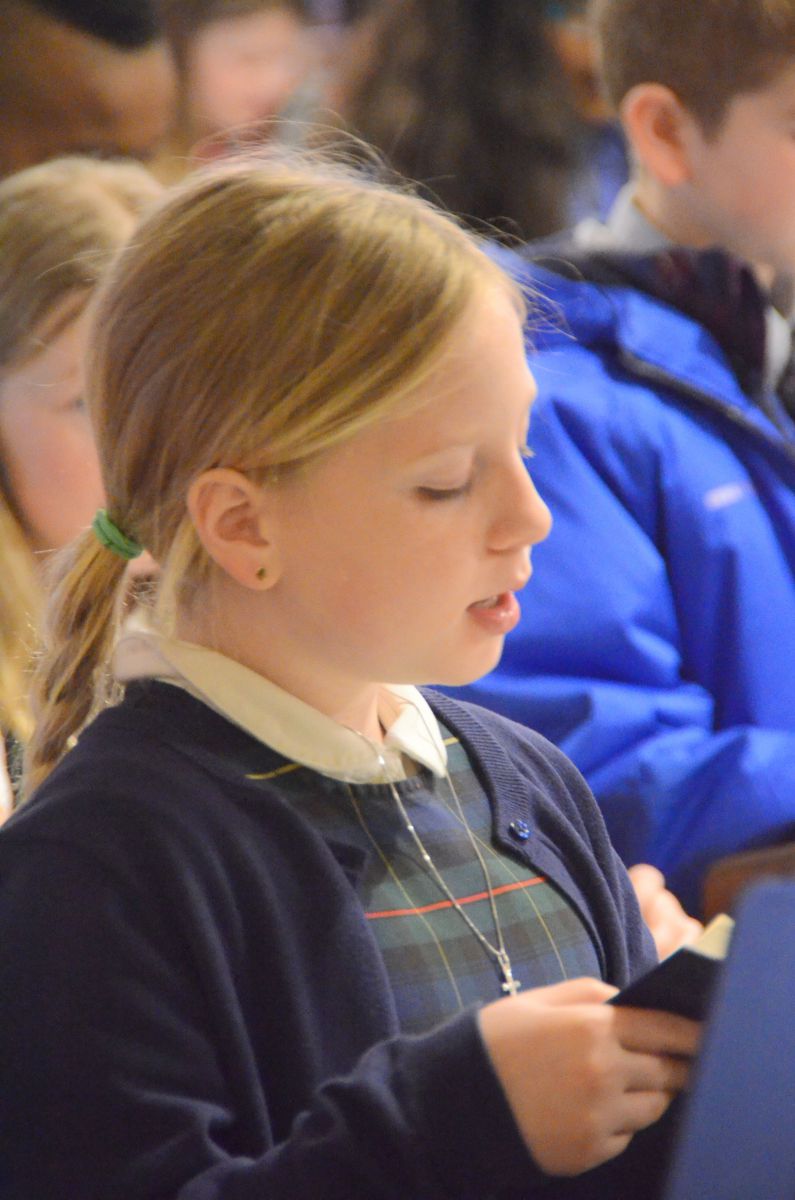 On Wednesday, February 3, during a visit to St. Brigid School in Portland to celebrate Maine Catholic Schools Week, Bishop Robert P. Deeley articulated that special feeling while speaking to students.
"What you feel is community. All of the good things in our life and our world come together here and you get to talk about it and think about it. I think that is what is truly special about a Catholic school," said the bishop. "When we pray together, we grow in community together. We appreciate each other for who we are. You get to pray together and talk about religion together. You get to focus on the fact that you're a part of a community."
Bishop Deeley explained to the students that another special way Catholic schools build community is by doing service projects together to help people in need. During Maine Catholic Schools Week, St. Brigid students will complete projects to benefit Park Danforth, The Root Cellar, and the Society of St. Vincent de Paul.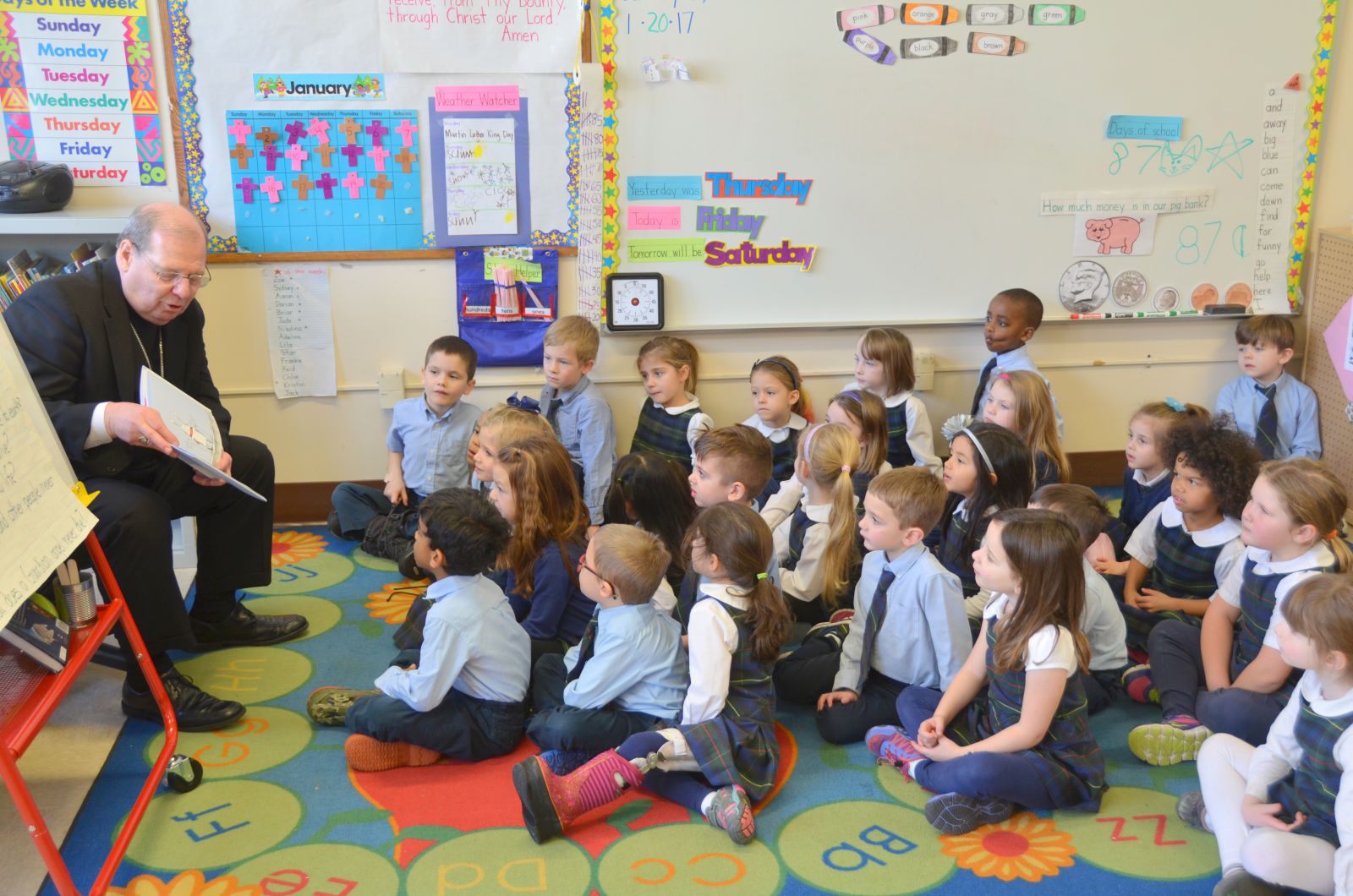 The bishop told third graders that these kind works, particularly in the Holy Year of Mercy, are ways in which they can share God's love.
"All of these things are ways in which we care for one another," said the bishop as he pointed to a large handmade sign displaying the works of mercy. "We feed the hungry, clothe the naked, and do many other things to serve each other. That's what's important about having a Catholic school."
The schedule for the week at St. Brigid also includes a number of fun activities and theme days, including Silly Sock Day on Wednesday.
"I wish I would have known. I could have worn my St. Patrick's socks!" Bishop Deeley told the laughing seventh graders.
During the visit, the bishop also read If Jesus Came to Visit Me to the pre-kindergarteners, quizzed the second graders on math, answered questions for students in all grades, and was treated to a song written by seventh-grade girls. He also offered advice to the eighth-grade class which will depart for high school next year.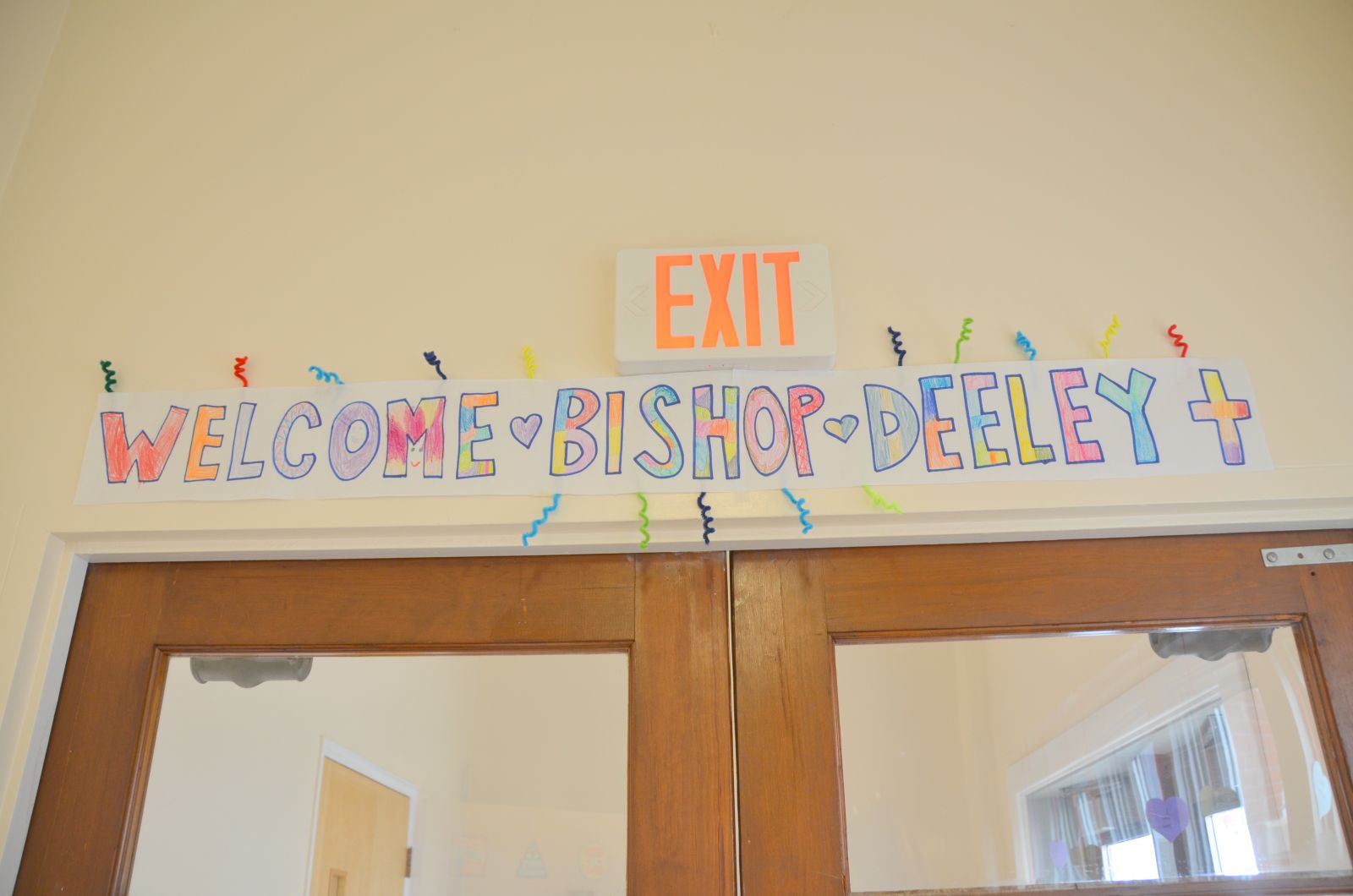 "Remember, God created us to be happy. God isn't going to steer you wrong. God has a plan for every one of you. I'm sure you are asked 'What do you want to do with your life?' The real question is 'What does God want me to do?' Most of you, God will call to marriage, to have children, to be the "home" Church, a place where faith starts. Others, he will call to special vocations or service in the Church. If you listen, God will guide you to where you should be."
The St. Brigid School community began the day by gathering for a special Mass, celebrated by Bishop Deeley, at St. Joseph Church, located next to the school.
Students, family members, and parishioners filled the church on Wednesday morning, the feast day of St. Blaise.
"Who was St. Blaise?" the bishop asked the students during Mass.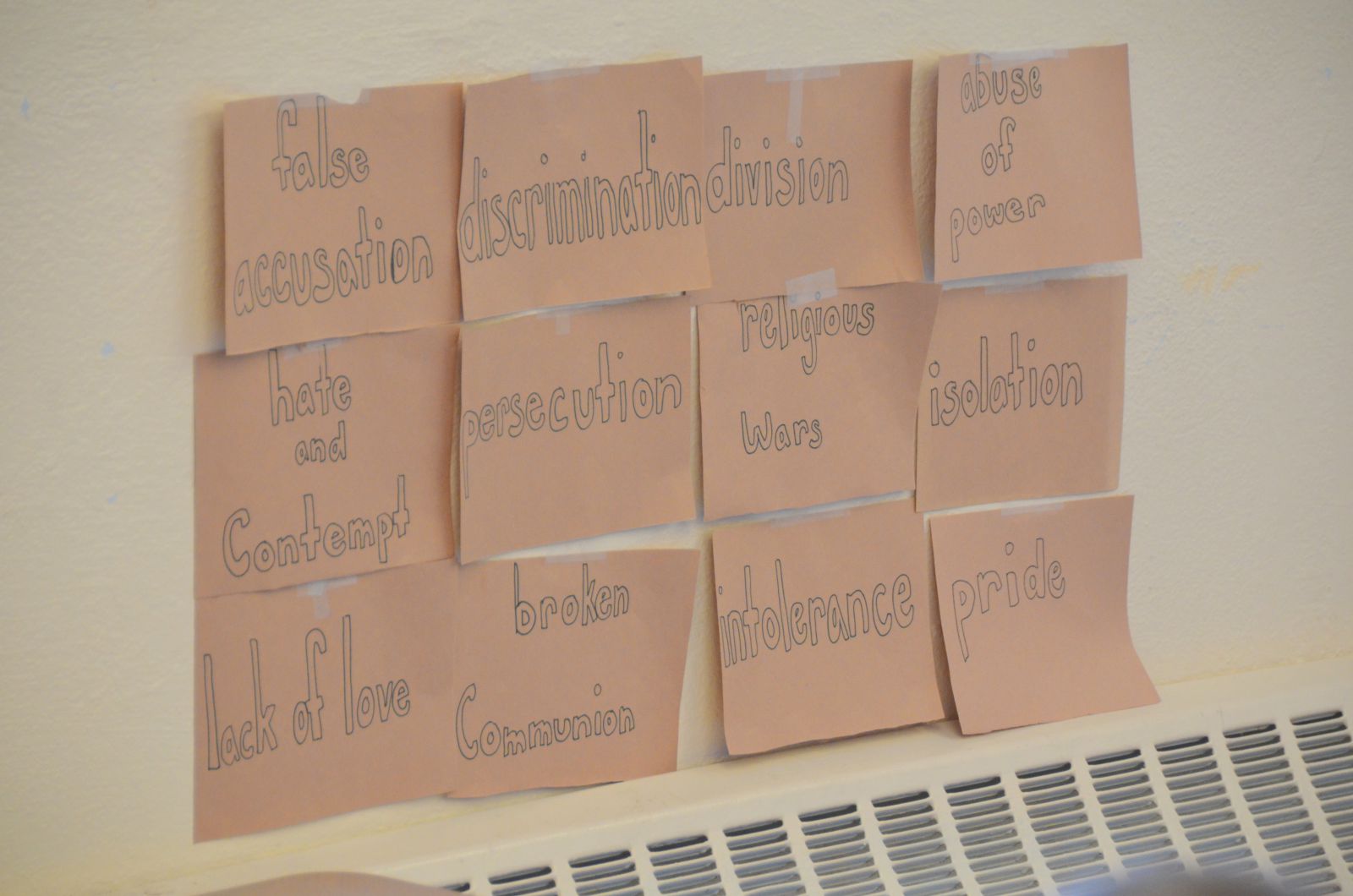 "A little boy choked on a fishbone and St. Blaise cured him," answered one student.
"That's right," responded the bishop. "He brought God's love to this little boy because he cared for him and God took care of the boy. So we ask for God's special blessing on all of us today as we bless the throats and we ask God to keep us from any illness especially during the winter. We do this as a reminder that God cares for us, wants the best for us, loves us, and tells us to love each other."
Bishop Deeley, Fr. Paul Sullivan, pastor of Our Lady of Hope Parish in Portland, and lay ministers blessed the throats of those gathered by touching the throat of each person with two candles blessed on the feast of the Presentation of the Lord (Feb. 2) joined together in the form of a cross while saying: 
"Through the intercession of Saint Blaise, bishop and martyr, may God deliver you from every disease of the throat and from every other illness: In the name of the Father, and of the Son, and of the Holy Spirit."
At the end of Mass, students presented the bishop with gifts to commemorate his visit, including a tree to be planted in his yard. The bishop also took pictures with St. Brigid students who had achieved perfect attendance.