BANGOR---From learning his favorite thing about being a bishop ("The people I meet!") to his favorite Mass to celebrate ("The Chrism Mass"), the students at All Saints Catholic School in Bangor discovered many things about the life of Bishop Robert P. Deeley when he visited the school on Friday, May 5 (additional pictures below).
Upon his arrival, Bishop Deeley was met with a large "Welcome" sign, held by an energetic group of children at the front door of the school's St. Mary campus (PK-Grade 3).
After visiting each classroom at St. Mary, he traveled to the St. John campus where he answered questions for the fourth through eighth grades.
Friday's trip was the first of two to Bangor this weekend for the bishop, who will celebrate confirmation and first Communion at St. John Church on Sunday.
"We get to eat the Eucharist!" one second grader excitedly told the bishop.
"And confirmation will make you a full member of the Church. What do you receive at confirmation?" the bishop asked the second grade class, many of whom will receive the sacraments at Sunday's Mass.
"The Holy Spirit!" they responded.
"What do you receive in Communion?" said the bishop.
"Jesus!" they said.
"Remember those answers on Sunday!" replied the bishop.
The bishop asked the eighth graders, who will soon head off to high school, what they liked most about All Saints. Among the many things they listed were the respect the students have for each other, the chance to be open about their faith, and that everyone "gets a chance to shine."
Bishop Deeley complimented the eighth graders for their commitment to being "prayer partners" with the All Saints kindergarteners.
"It's great that you spend time with them and model your faith. That is so important and it's a wonderful thing for everybody to see and experience."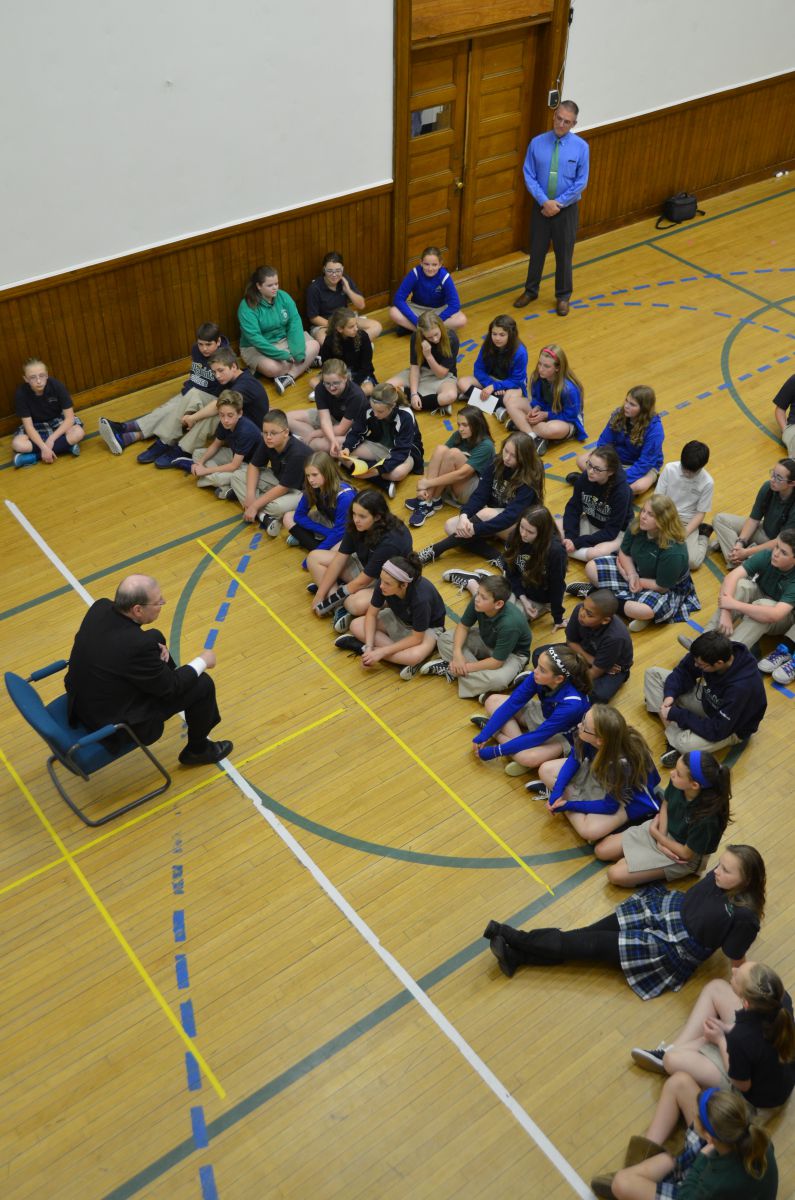 The sixth and seventh grade classes told the bishop about a recent assignment in which they were asked to write a speech on the topic of "What does being a hero mean to me?"
"To me, a hero is a courageous person who is willing to stand for a principle, even though the principle may not be popular," the bishop said when the children asked him for his opinion. "There are heroic deeds, of course, but a hero, to me, is one who leads others to what is good. Someone who perseveres no matter what the popular opinion is."
Other highlights of the visit included the fourth and fifth graders saying the Hail Mary in Spanish, seeing the flower pots the younger students have made for Mother's Day gifts, reading to the large pre-kindergarten and kindergarten classes, and receiving welcome cards from each student in the school as well as a handmade "Words of Encouragement" book from the eighth-grade class. The book features inspiring Biblical passages.
"We are all very grateful for your service as Shepherd of our Church here in Maine," it is written on the first page. "Be assured of our prayers and may the words we've quoted in this book help encourage you in your work!"