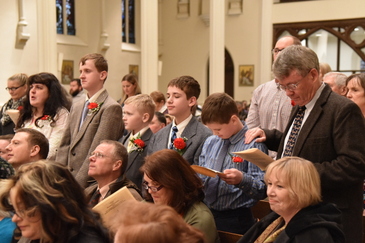 "Guide these chosen ones: strengthen them in their vocation, build them into the kingdom of your Son, and seal them with the Spirit of your promise." – Bishop Robert Deeley
The pews of the Cathedral of the Immaculate Conception in Portland were full as those preparing to enter the Catholic Church, as well as their godparents, sponsors, and parishioners joined together for the celebration of the Rite of Election and Call to Continuing Conversion on Sunday, March 5.
"Our gathering is an especially important sign of God's mercy active in our midst, drawing so many men, women, and children close to himself. May this day be an occasion of grace for all of us," Bishop Robert Deeley said.
During the Rite of Election, parishes present catechumens, those who have not been baptized in any Christian faith, to the bishop and the congregation.  Upon confirming their desire and readiness to become Catholic, the bishop enters them into what is known as the Order of the Elect.
Also recognized during the rite are those already baptized as Christians but who have not yet entered fully into the Church through confirmation and first Communion. Referred to as candidates, they also publically express their readiness and are then called to ongoing conversion, as they prepare to share fully in the Church's sacraments.
"The Church recognizes your desire to be sealed with the gift of the Holy Spirit and to have a place at Christ's Eucharistic table. Join with us this Lent in a spirit of repentance," Bishop Deeley told them.
In addition to the Cathedral, the bishop also presided over the Rite of Election and Call to Continuing Conversion at Holy Rosary Church in Caribou and Notre Dame Church in Waterville on the weekend of March 4 & 5.  A total of more than 110 catechumens and candidates participated, with most attending the ceremony at the Cathedral.
They included Jonathan Childs of All Saints Parish, Brunswick.  Childs said after the death of his mother, he went looking for God, and decided to attend Midnight Mass at Christmas in 2015.  While there, Father Frank Murray, pastor at the time, let everyone know there were free copies of Matthew Kelly's book, Rediscovering Jesus available.
"It was like a moment of the Holy Spirit," Childs said. "All of a sudden, somebody is bringing up for people to bring themselves on a faith journey. So, that's where I really started opening up to it, and that's when I started to go to Mass weekly. Afterwards, I felt really good about it, and I thought, 'This is what I want to do.'"
Tyler McGrath, age 15 of Saint Thérèse of Lisieux Parish in Sanford, said his older brother received the initiation sacraments last year, and it was seeing the difference the Church made for his brother that led Tyler down the same path. He said it has helped him deal with some anger management issues he was starting to develop.
"When I joined, I started to calm down a little bit, and then I met friends like Jake and Josh (Guillemette). Then, they started to make me happy, so I started to move away from the bad people.  I noticed how good I was doing in life, so now I'm becoming Catholic because of it," he said.
Ashley Tellier from Parish of the Holy Eucharist in Falmouth also credited friends with leading her to the Church. Tellier said friends invited her and her husband, Brian, who is Catholic, to attend Mass with them and to consider joining the choir.
"They didn't know if it would be something I was interested in, but they said, 'Hey, we know you guys aren't really going to church all that often, but we are looking for people to join our choir. Would you be interested?'"
Although unsure, she and her husband accepted their invitation. For a few weeks, she sat in the pew, taking things in, but then she said she decided she would start singing.
"I enjoyed doing it, so I figured I would go and help them out. And then, I just never stopped going. I really enjoyed it.  I find the community to be very welcoming. Over time, it felt like a place that I wanted to be, and then, once I got used to the practices, going through the same routine every Mass, I found that I was reflecting more, and I was kind of finding my way through the beginning of joining the faith," Tellier said.
Havah Kewley, of Holy Spirit Parish in Wells, credits her husband with introducing her to the Church.
"Ever since I've met him, we started coming. He's brought me more than a few times for a couple years, so that's kind of where the journey started," she said. "We had a baby, and she's getting baptized, so it brought up my interest into being an official part of the Church."
Sarah Wardwell from Prince of Peace Parish in Lewiston said her engagement to a man who is Catholic led her to explore the faith.
"I was raised Baptist. My dad is a Baptist minister, but I decided that I appreciated the fullness of the faith in the Catholic Church, so I wanted to pursue RCIA," she said.
| | |
| --- | --- |
| | |
| | |
Those preparing to enter the Church participate in the Rite of Christian Initiation of Adults (RCIA), a period of self-examination and learning that leads up to the Rite of Election and reception of the initiation sacraments. The catechumens and candidates say through RCIA, they have been able to understand the faith better and also draw closer to their church communities.
"Through the Rite of Christian Initiation, I've been able to ask more of the prodding questions that I've wanted to have answers to.  Not all of them can be answered, because it is definitely a self-discovery journey, but I've definitely enjoyed the community," said Tellier.
"My bachelor's degree is in philosophy, and we just talk about philosophical ideas, and it's just so wonderful because I haven't been able to talk about relativism and all these things that are important to me," said Melina Banks, of All Saints Parish, Brunswick.  "As a Catholic, you can go as deep as you want, which is just the most exciting thing."
 "I feel like I'm learning a lot, and it's been really exciting just to get to know the richness of Catholicism," said Jency Liddell from the Portland Peninsula & Island Parishes. "It is truly fascinating."
The catechumens and candidates will now spend the season of Lent preparing for the celebration of Easter and their entry into the full communion of the Church through baptism and the initiation sacraments.
"Lent is the time of year when we look at ourselves and our lives, seek forgiveness, and prepare ourselves to renew the commitment of baptism at Easter.  The three words of Lent are prayer, fasting and almsgiving.  They give the direction to our lives.  They are connected to each other," the bishop said.  "As the days of Lent are, for those who are enrolled among the elect and candidates today, a time of further preparation and more intense reflection on the mystery of God's call to them, so, too, is it for those who are already baptized a time to look anew at our own relationship with Jesus."
At the conclusion of the Rite of Election, the bishop invited the candidates and catechumens to join him for another celebration in June.  The neophyte Mass, a Mass of thanksgiving for new Catholics, will be held on June 11, at 10 a.m., at the Cathedral.