Diocese of Portland Contributes Nearly $60,000 to CRS Rice Bowl in 2017
Total Contributions Rise for Fifth Straight Year
PORTLAND---Parishes and schools in the Diocese of Portland combined to raise over $57,000 for the Catholic Relief Services' (CRS) Rice Bowl program during the forty days of Lent in 2017. CRS Rice Bowl is a faith-in-action program that encourages Catholics to fill cardboard bowls with monetary donations, giving alms to those in need and honoring Jesus' call to serve our neighbors.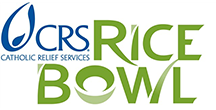 Nearly 50 Catholic parishes and schools in Maine participated in the 2017 program, contributing a total of $57,471. It marks the fifth straight year that total contributions have risen in the diocese, including an over $12,000 increase from 2016 ($45,070).
According to Catholic Relief Services, 75% of the donations support CRS' humanitarian relief programs in nearly 100 countries worldwide, while 25% of the proceeds are given to hunger and poverty alleviation efforts in the donor's community.
The top three contributing Maine parishes in 2017 were: Good Shepherd Parish (Most Holy Trinity Church, Saco; St. Joseph Church, Biddeford; St. Margaret Church, Old Orchard Beach; and St. Philip Church, Lyman) with $6,116; St. Paul the Apostle Parish (St. John Church, Bangor; St. Mary Church, Bangor; St. Joseph Church, Brewer; St. Teresa Church, Brewer; St. Matthew Church, Hampden; and St. Gabriel Church, Winterport) with $5,235; and Holy Spirit Parish (St. Martha Church, Kennebunk; St. Mary Church, Wells) with $4,756.
All Saints Parish in Brunswick, Parish of the Ascension of the Lord in Kittery, Cathedral of the Immaculate Conception Parish in Portland, Christ the King Parish in Skowhegan, Immaculate Heart of Mary Parish in Auburn, Notre Dame du Mont Carmel Parish in Madawaska, Our Lady of Hope Parish in Portland, Parish of the Holy Eucharist in Yarmouth, Parish of the Resurrection of the Lord in Old Town, St. Brendan the Navigator Parish in Camden, St. John Vianney Parish in Fort Kent, St. Kateri Tekakwitha Parish in Calais, St. Mary Parish in Houlton, St. Matthew Parish in Limerick, St. Michael Parish in Augusta, and St. Thérèse of Lisieux Parish in Sanford all eclipsed $1,000 in donations.
Since 2011, the diocese has collected nearly $300,000 for the program.
---
Brunswick Youth Complete Successful "Mission to D.C."
On Sunday, June 25, a group of 26 teens and five adult leaders from All Saints Parish in Brunswick filled five minivans for a weeklong journey aimed at providing the young people with a residential experience of living as disciples of Jesus through prayer and service to the poor.
The trip from Brunswick to Washington, D.C. took twelve hours, but the lessons gleaned from the "Mission to D.C." will last a lifetime.
By day, the group went to a variety of sites throughout the city to perform acts of service, including pruning and clearing weeds at parks, installing drywall and flooring at the city parks headquarters, doing yard work for senior citizens, preparing food at a community kitchen, delivering food to homebound people, and leading games for children. By night, the participants cooked their own meals and slept on the floors of classrooms at a local church.
"The purpose of our mission week is always to practice intentionally living in the Kingdom of God," said Sheila Murphy, youth ministry coordinator for All Saints Parish. "This means having an attitude of openness to God for the whole week. One practical starting point for this was leaving our phones at home!"
By eliminating distractions, the teens were able to focus on the theme of the week: "The Good Life."
"It's a phrase we explored with more depth each day," said Murphy. "At first, we thought it meant experiencing all the blessings God has for us like food, family, friends, safety, and freedom. Later, we came to understand the good life means helping everyone experience the goodness that God wants to give them in their lives now as a preview of life in heaven! Our students were living life to the fullest because they were oriented toward helping others experience life to the fullest too."
The young people also prayed together each day, sang worship songs as a group, and wrote in spiritual journals before going out to work for the day, reflecting on the grateful people and unforgettable moments that filled the week.
Though the parish holds the mission trip each June, preparations begin months earlier as the teens hold a variety of fundraisers, including large community dinners, to raise money. Each year, the All Saints parishioners are eager to help their youth have this special experience.
"Anyone who wants to participate in the mission trip is able to do so, regardless of financial situation," said Murphy. "The support from parishioners and friends is wonderful."
---
Spring Break Mission Trips for Saint Joseph's College Students
STANDISH---While many of their classmates enjoy a well-deserved rest during Spring Break, twenty-three students at Saint Joseph's College will generously offer their time and talent to help many in need across the country as part of the school's "Spring Break Workfest."
The initiative, now in its 26th year, provides opportunities for students to look beyond the world they know and assist the poor and marginalized, building relationships between themselves and in new communities. Fittingly, "Spring Break Workfest" frequently falls during Lent, a period of spiritual renewal that encourages a focus on almsgiving, or charitable acts for the benefit of others.
"Donating material or time to those in need and performing other acts of love is exactly what the 'Spring Break Workfest' is all about," said Kathryn Cody, social justice and leadership coordinator at the college.   
This year, Saint Joseph's students will travel to:
Corbin, Kentucky (working on the building and repair of homes with the Christian Appalachia Project)
Westchester County, New York (working on the construction of safe and affordable housing with Habitat for Humanity)
Santa Fe, New Mexico (working and immersing in the Navajo culture of the region)
New Orleans, Louisiana (participating in a variety of community service projects through Camp Restore)
While the Saint Joseph's College "Spring Workfest" destinations vary from year to year, the trips are always transformative and eye-opening experiences.
"Along with daily work and service, students also make time each day to come together in prayer and reflection, processing with one another while they continue to work towards the common good," said Cody.
"Lent invites and guides us more deeply toward the 'center' of our life through self-awareness and reflection," said Michael Sanderl, vice president & chief sponsorship and mission integration officer at the college. "It draws us to turn toward others, expressing mercy and compassion with others. It awakens us to the abiding presence of God in our lives."
For more information about the "Spring Break Workfest" and the many service projects sponsored by the college each year, click here. 
A special section has been created featuring resources to assist Maine Catholics during their Lenten journey, including Mass times, special event listings, a Lenten calendar, faith formation and Scripture reflections, retreat information, ways to share their gifts, and Lenten messages from Pope Francis.
---
Brunswick Parish to Assist Parish in Paraguay
BRUNSWICK---In recent years, several teenagers from All Saints Parish in Brunswick have seen firsthand the plight facing many people living in Asunción, Paraguay, during their mission trips to one of the poorest areas in South America.
"We lived in a house that sits next to a large landfill where the city's garbage is dumped. Approximately 10,000 people live inside the landfill and dig through fresh trash to find things they can resell," said Jack Murphy, a Brunswick High School graduate who served in Asunción from September 2015 to June 2016, helping local children with their studies among other duties.
The assistance and support from the Maine teenagers was treasured by St. Alfonso Church in Asunción, and particularly by a man named Deacon Carlos, who worked with the All Saints teens during their mission trips.
"Deacon Carlos is the parish deacon who uses a van to take nuns and parishioners to visit their local prison, children to their medical appointments and to school, and families to church," said Deacon John Murphy, who serves at All Saints Parish.
Recently, the van became unusable, leaving St. Alfonso Church with no transportation to offer many in need. 
"We knew we wanted to help," said Deacon Murphy. "So All Saints Parish is sponsoring a Lenten fundraiser to help raise money for Deacon Carlos and St. Alfonso Church to purchase a new van."
All Saints Parish (St. Mary Church, Bath; Our Lady Queen of Peace Church, Boothbay Harbor; St. Charles Borromeo Church, Brunswick; St. John the Baptist Church, Brunswick; St. Patrick Church, Newcastle; St. Ambrose Church, Richmond) is encouraging their parishioners to contribute, but support from other community members and other parishes would be gratefully accepted.
To donate to the van fundraiser, click here and go to the section entitled "Deacon Paraguay." All Saints Parish will match the first $1,000 raised.
---
Ruth Oakley Visits Kenya as Guest of the Sisters of Mary Immaculate of Nyeri
Ruth Oakley, former diocesan director of the Office of Missions/CRS, visited Kenya during the month of November (additional pictures below). Oakley was invited as a guest of the Sisters of Mary Immaculate of Nyeri in Nyeri, Kenya.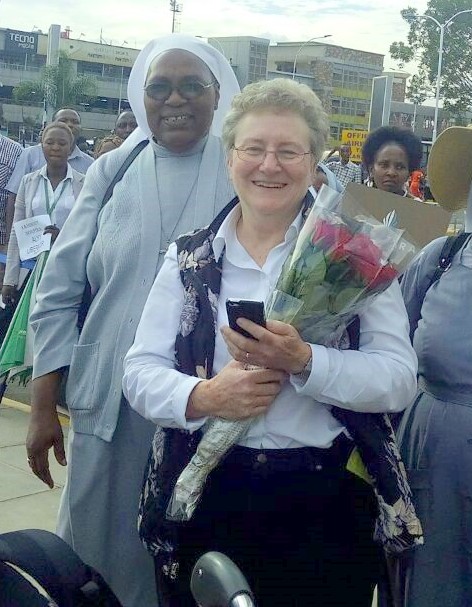 Nyeri is a town situated in the Central Highlands of Kenya. It is the county headquarters of Nyeri County and the central administrative headquarters of the country's former Central Province.
Ruth's flight to Nairobi, Kenya, took two days, including a stop in Saudi Arabia. During her multiweek stay in Kenya, Ruth visited with teachers at Mary Immaculate Academy in Mweiga and the Maria Immaculata Educational Centre in Kiamumbi, which began as a home for orphans and street children affected with HIV/AIDS.
Sr. Jane, the principal at Maria Immaculata, told Ruth about the many challenges facing students at the school.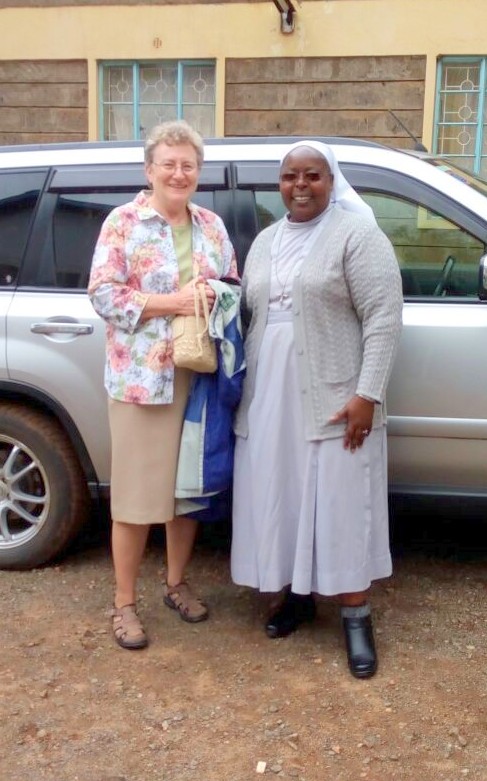 "Sr. Jane said that every morning they have to go and borrow food for the students because the few who pay aren't enough to provide for all of them,'" said Ruth. "She took over the school in January of this year and some of the challenges they face are a lack of enough food for the feeding program, space to feed all the students, and the reality that the children's dining hall only accommodates 60 children at any one time yet they have over 400 students."
Ruth also learned that when the children are served during meals, they must eat outside.
"They lack enough furniture," said Ruth. "Most of the students are using broken chairs because they don't have the funds to buy good ones."
Ruth also met with Kenyan students. At St. Therese Business and Technology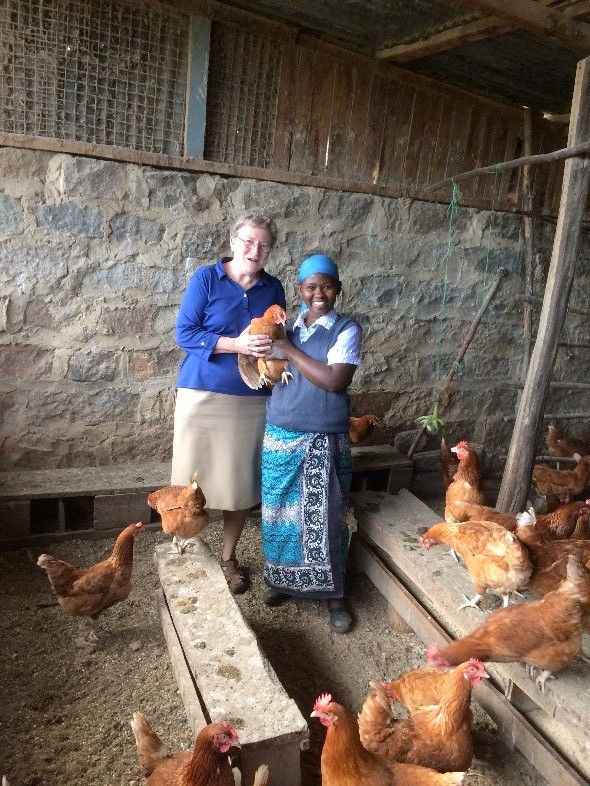 Training Institute in Nyeri, she observed students preparing for positions in the business world.
She also had the privilege of visiting the sisters' farm and an aspirant, Sr. Lucy, who introduced Ruth to the chickens.
"One even laid an egg at my foot when I stepped into the coop!" said Ruth. "They cooked for me with food from the garden. It was wonderful."
Ruth also attended a special Mass of Thanksgiving for several new churches that have opened in the Diocese of Nyeri.
"Members of the Missionary Childhood Association danced in the entrance procession with great joy!" said Ruth.  
Ruth's visit left her cognizant of the many challenges facing the people of Nyeri and filled with desire to further spread awareness of the importance of missions.
"My trip was such a blessing!  I met so many wonderful and joy-filled Sisters who are dedicated to helping children see and embrace their future with hope!"
For more information about the Sisters of Mary Immaculate of Nyeri, click here.
---
 Brunswick Parish Helping Catholic Hospital in Cameroon
"We have everything from beds to toilets to sinks to armoires to lamps."
Marcy Brenner, an RCIA coordinator at All Saints Parish in Brunswick, had trouble containing her excitement as she watched item after item being carried out of the former Skolfield House.
"I am feeling so happy. It's very emotional. It's very, very emotional. It really and truly is. God is so good."
Volunteers spent hours on Wednesday, August 31, moving items from the former assisted living facility into a storage container at St. Charles Borromeo Church in Brunswick. From there, the items will be sent to Cameroon to be used in the recently constructed Our Lady of Lourdes Catholic Hospital. Although the building is finished, the hospital needs furnishings and equipment before it can begin admitting patients.
"Without these things, the hospital doesn't get off the ground. We have the structures, but they are empty. It's like having food, which is uncooked," said Fr. Eugen Nkardzedze.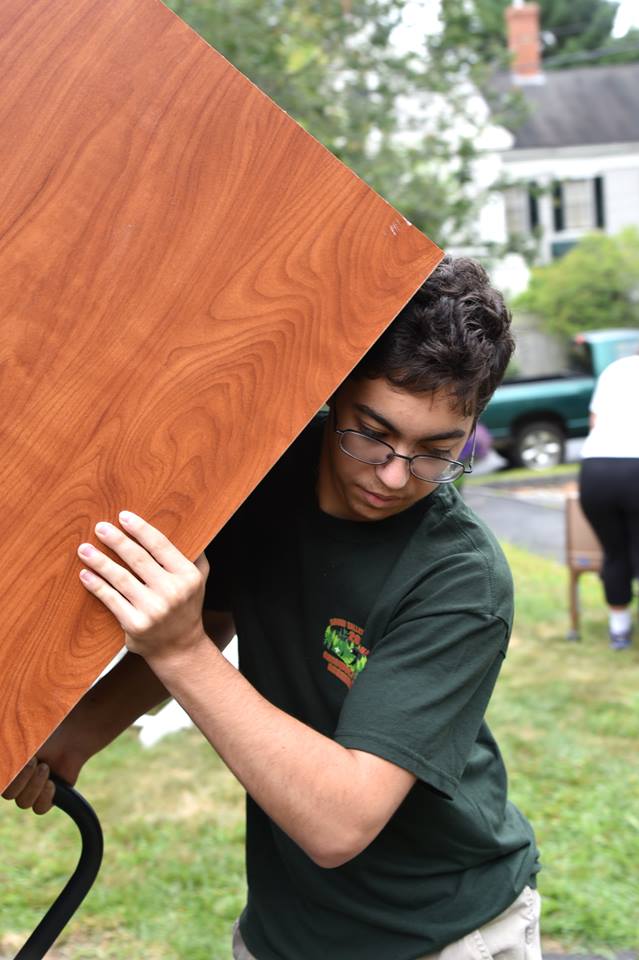 "The African Express," as the parish has dubbed the hospital donation project, came together quickly. Everything just seemed to fall into place.
"It's kind of like a God thing. You have a confluence of events that wouldn't happen if God wasn't directing it," said Sheila Murphy, the youth ministry coordinator for All Saints. "It's kind of like, ride the God wave."
Fr. Eugen, a priest originally from the village of Nkar in Cameroon, is studying in the United States and has been assisting at All Saints. He says a parish donation of towels and blankets for the people of his home diocese prompted him to share photos of some of the children there.
Brenner was among those moved by the pictures.
"The children were so happy, and they were so joyful, and I thought, 'This is so precious,'" she said. "I went home, and I just couldn't get those little thoughts and those little faces out of my head."
She shared her sentiments with Fr. Eugen, who then showed her a photo of the newly built hospital. When she asked him how many patients it served, she learned that it had not yet been able to open.
"I'm scratching my head thinking, 'How is he going to get hospital beds in that hospital?'"
That same afternoon, an ad in the newspaper caught her eye. Two words jumped out at her: "hospital beds." She called the number in the ad and learned that Amy McLellan, the new owner of the former Skolfield House, was converting the building into congregate care and independent living apartments and was looking to sell the beds.
"Now, I'm really excited," said Brenner. "I think that I might be able to buy a couple of hospital beds, and she said she would donate five hospital beds, so we have maybe 10 hospital beds for him."
Brenner told Fr. Eugen the news, and they both went to see McLellan the next morning. By the time the meeting was over, McLellan had decided to donate not only all the beds but armoires, lamps, curtains, sinks, and even trash cans.
"She and Marcy have been my angels," said Fr. Eugen.
Fr. Eugen said the new hospital is something he is passionate about because his own mother had to walk 10 miles to the hospital when she was about to give birth to him. She made it six-and-a-half miles before having to stop at the home of a man who would become his godfather. He says his name reflects that journey, literally meaning 'Nkar has given birth to a child on the way.'
"I said, 'Maybe I could work hard to stop another woman from going through that same ordeal.' So my passion is defined by my own personal involvement."
The pair brought the project to Fr. Thomas Murphy, pastor of All Saints, and say he was immediately on board. They had to work quickly, however, because renovation work was already underway at the Skolfield House and the items were in the way.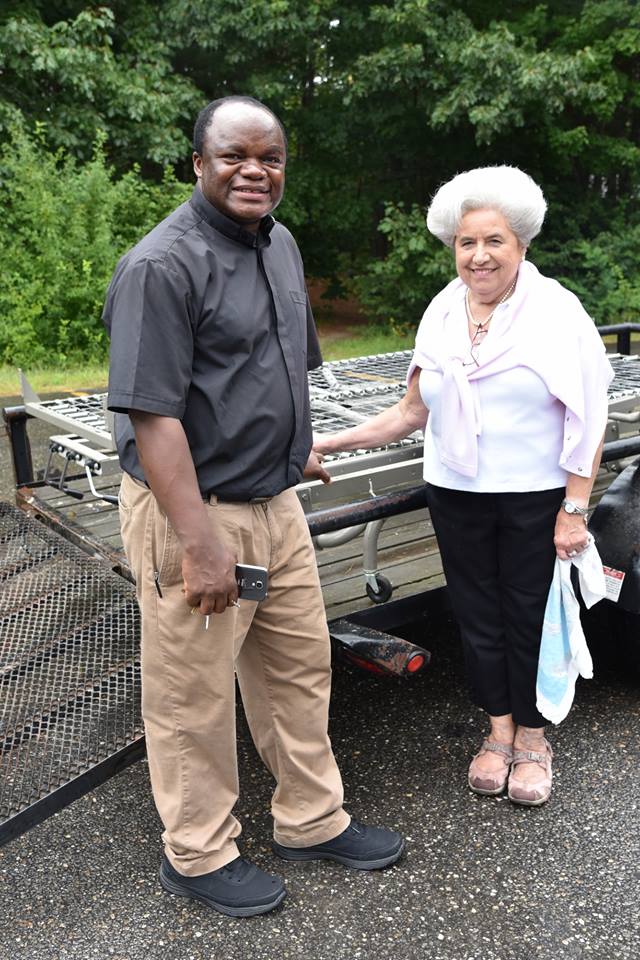 Brenner said she looked to find a storage container where the items could be placed but was disappointed to learn that it would cost $710. Then, a man who used to do maintenance work at St. Charles suggested to her that maybe a parishioner had a business that could help. She remembered one, Peter Labbe of Ray Labbe and Sons, Inc., and gave him a call.
"He said, 'Give me a chance to think on it,' and he called me back in less than an hour, and he said, 'I will go to Bangor in the morning, and they'll have one,'" she recalled.
There was no charge.
"There is God again, making sure everything falls into place," Brenner said.
Brenner put the word out and more than 30 volunteers, from Boy Scouts to seniors, showed up to move the items across town to the parking lot of St. Charles Borromeo, where the storage container was placed.
"I used to attend St. John's School, and we would go and sing to the residents, so I have a history with this place," said Natalie Brown, a youth ministry intern.  "Just the fact that Marcy organized this, and we could put the two worlds together was amazing."
"We have to do what we can. We're all connected," said Ruth Bouchard Klein. "Some people are poor, and some people are rich. The more we have, the more we have to share."
"Being able to recycle, because they are closing this down, and giving it to someone who doesn't need something new but needs a hospital bed is just really something amazing," said Vincent Larovere, a Bowdoin College student who came over to help before heading to class.
"It's awesome because of Fr. Eugen coming over to fill in as a priest for a little bit," said Joseph Beale, age 17, of Boy Scout Troop 648. "It's really good to be able to help his home village back in Cameroon."
The parish still needs to raise approximately $7,000 to ship the items overseas. Fr. Eugen will also need money to then transport the items from the port to the hospital itself. He plans to speak to parishioners about his mission work in Cameroon to help raise money. Brenner says they are also spreading the word throughout the community and welcome all donations. 
"We just want people to help us ship it to Africa, and that costs money. Everything else has been given to us. God has been so good. All the helpers and all the stuff, it's just wonderful," she said.
Fr. Eugen says he came to Maine to offer his services, not to solicit donations, but he is grateful for the help he and the people of the Diocese of Kumbo have received.
"We want to share our own gifts from our own Church and also to partake of the gifts of the Church here," he said. "We have things we can bring in here, our own gifts, and at the same time, we should be humble to accept the gifts that God gives to us from the Church here. So, it is a communion."
If you would like to help Fr. Eugen with the shipping costs, donations can be sent to: All Saints Parish, Attn. Dr. Martha Corkery, 132 McKeen Street, Brunswick, ME 04011-2980. For more information, contact the parish at (207) 725-2624.
---
Holy Spirit Parish Teens Offer Mercy, Support to Jamaican Children
WELLS---In an effort to reflect upon and give thanks for the Lord's mercy, teens at Holy Spirit Parish (St. Mary Church, Wells; St. Martha Church, Kennebunk; All Saints Mission, Ogunquit) worked for months to extend that same mercy to young people living in Maggotty, Jamaica, a poor area plagued by unemployment and illiteracy.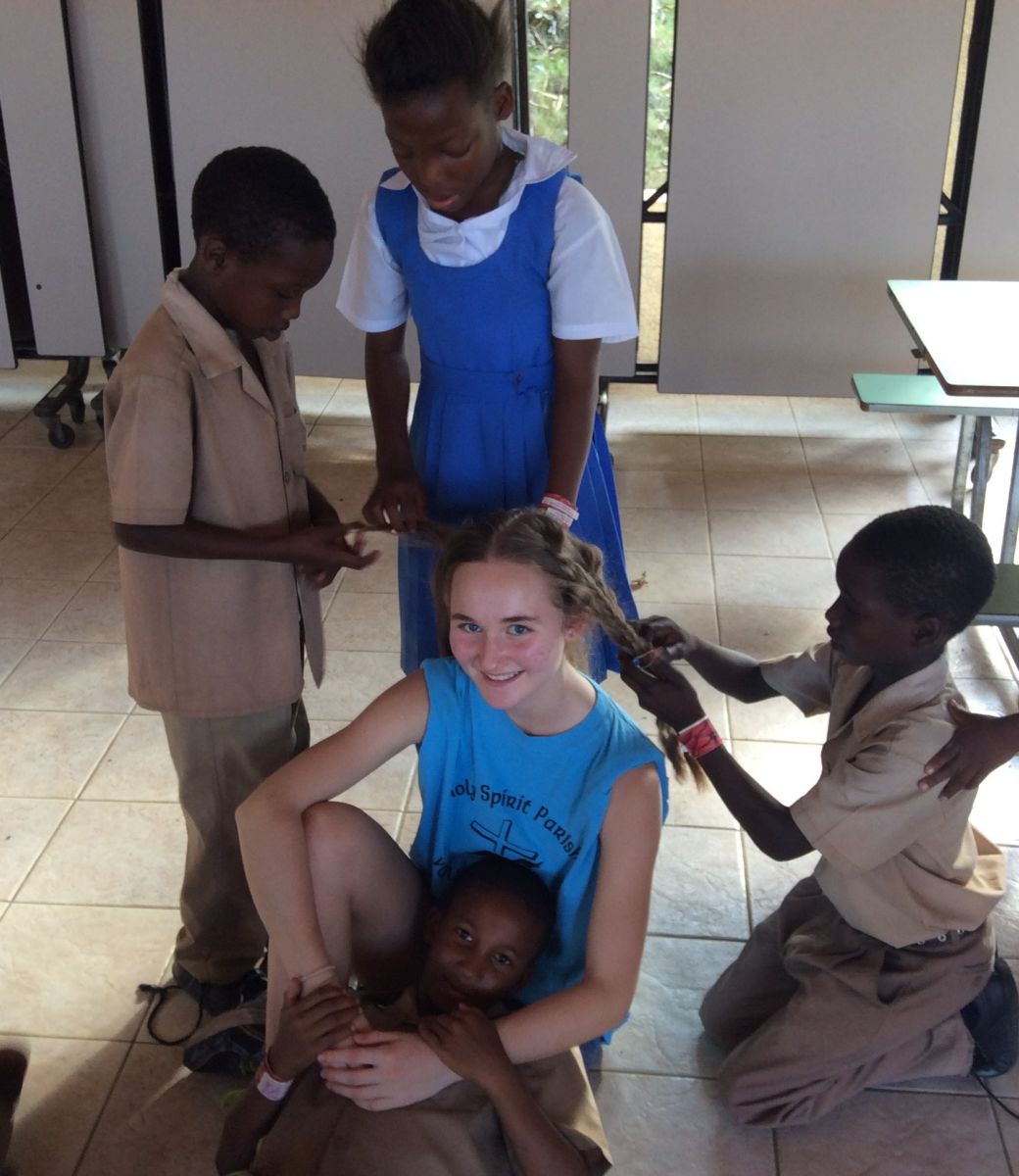 "One of the goals of this mission was to identify our gifts and God's grace in relationship to our call to live a life that asks, 'What does God want me to do with these gifts and grace I am blessed with?'" said Carolyn Houston, faith formation director at the parish. "This 2016 mission project exceeded all goals and expectations."
Throughout the winter, members of the parish's youth ministry spoke about the plight of the children in Jamaica at Masses in Kennebunk and Wells, hoping to raise funds to help two students in Maggotty pay their school fees.
"Enough donations were received from individual parishioners to send seven Maggotty children to school next year!" said Houston.
The parish support of the mission continued in February as Holy Spirit offered financial assistance to 17 teens and chaperones for a special trip to Maggotty on February 16-22, during which the teens and adults from Holy Spirit led a vacation Bible school program for the Maggotty youth. The Holy Spirit contingent also worked with children and adults from Maggotty to complete necessary repairs and projects.
"It was really amazing to see the kids there and how all they wanted was our attention," said Abby Ford, a Holy Spirit teen. "They were just so outgoing and happy. The faith they had for God was very inspiring as well."
"I gained two more families down there besides my own: the Jamaican people and my youth group," said John-Paul Haley-Read, a Holy Spirit teen who is also a senior at Cheverus High School. "I would go again without even being asked. I thank God for all my blessings and hope that other people are able to experience what I did so that they too may see the world through the eyes of a servant of God."
Though the Holy Spirit mission team offered their time, support, and warmth to the Maggotty community, in observing their new friends, the visitors from Maine received a priceless gift.
"The work they do every day at the parish, in the medical clinic, and throughout the Maggotty community, makes a huge impact on so many lives," said Houston. "Their dedication and faith have inspired our team members to continue on in service and ministry." 
Upon returning to Maine, the mission team members held presentations and slideshows about the trip for parishioners and all children in Holy Spirit faith formation classes, encouraging a compassionate and loving way of life in which people strive to help each other and to acknowledge our common creation in God's love.
The Holy Spirit Parish Family Life Committee will sponsor a complimentary pasta dinner at the St. Martha Church hall, located on 30 Portland Road in Kennebunk, on Sunday, May 15 at noon. The mission team members will give a presentation about the trip at that dinner. All are welcome to attend.
---
College-Aged Students from All Saints Parish in Brunswick Seek to Serve, Discover During Mission Trips
Called to reach out to the poor and marginalized in different areas of the world, college-aged students from All Saints Parish are sharing their faith through prayer and sacrifice, offering assistance to many in need.
In September, Jack Murphy, a recent graduate of Brunswick High School, departed for a mission to Asunción, Paraguay, where he will serve until next June. Jack is living with a Franciscan priest and several seminarians in a house which sits next to a large landfill where the city's garbage is dumped.
"Inside the landfill, approximately 10,000 people live," said Jack. "They work by digging through the fresh trash to find things that they can resell. They are usually lucky to make a dollar for a day's work. There is a functioning public school system, but not all the children go to school who are of age because they have to work in the landfill to provide money for their families."
Each day, after classes, the kids from the landfill come to the house where Jack and his housemates help the children with their homework and reteach some of the concepts learned in school.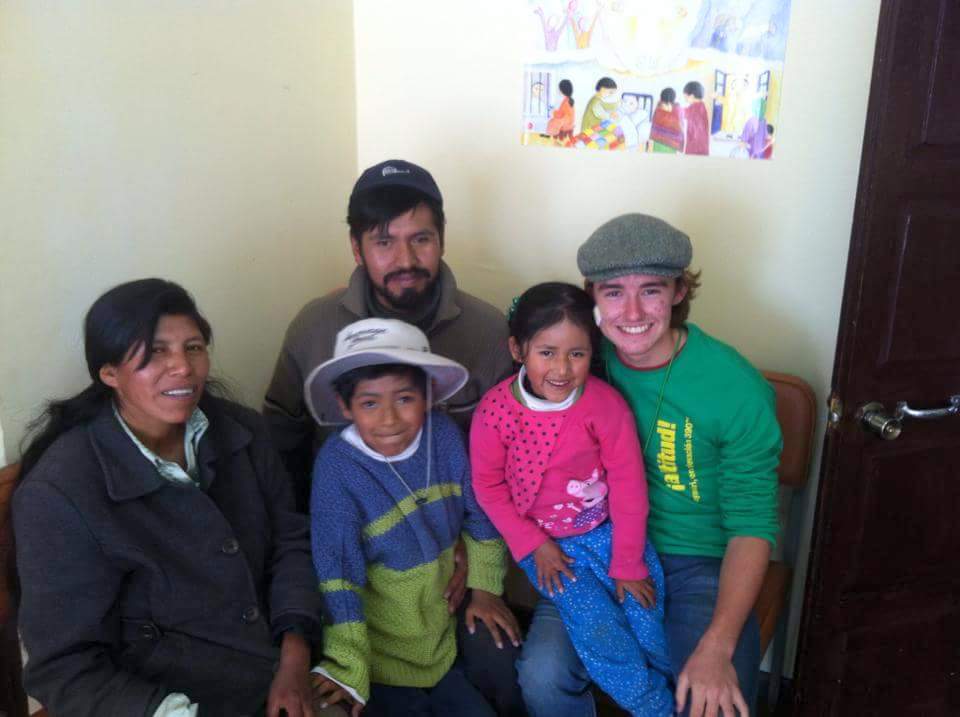 Ben Flanagan with a family in Lima, Peru
"The task of educating a class full of teenagers seems daunting enough when in an American school. For me, in Paraguay, the burden of that task is multiplied many times because I have to work hard to communicate with them," said Jack. "To add to this, the majority of the students seem to have no kind of motivation to learn because they can see no way out of the poverty."
It would be easy to look at the situation and lose hope. It is then that Jack, who attended St. John's Catholic School in Brunswick as a youth, turns to his faith.
"Each one of the people living in destitution has a God that loves them, and each was created with a unique purpose. The central goal of the education at the after-school program must be to get it into the kids' minds that it may be possible for them to make it out of the cycle of poverty. They can make a difference and change the society that has denied them of their most basic needs."
Jack's understanding of the importance of service displays a maturity far beyond his years, and is a source of pride for his loving parents, Deacon John Murphy and Sheila Murphy, the youth ministry coordinator for All Saints.
"It has been amazing to see Jack over the past few years focus more on service and attention to the poor," said Deacon John. "It is humbling that my teenager is the one who challenges me to live out the Gospel message more fully." 
A fellow St. John's Catholic School graduate, 18-year-old Ben Flanagan, is living and working with the Sodalitium in Lima, Peru, for six months. Like Jack, Ben left in September and will provide faith-related services and educational assistance at a school and parish in need.
Though happy to see Ben exhibit a sense of adventure and a thirst for knowledge of self and solidarity with the poor, his parents are truly grateful that he has placed God first in his life.
"He desires to seek God and to know God's will for him," said Val Flanagan, Ben's mother. "Ben is focusing on trusting the Lord, not the 'wisdom of the world,' to lead him into truly abundant living. It is hard to step off the treadmill of academia in order to find out who God is and how to love our neighbor. That is what Ben's act of faith is about. We are humbled and blessed by the journey our son is on."
Meanwhile, another All Saints parishioner, 20-year-old Natalie Brown, is combining ministry with an active discernment in South Dakota. A graduate of Catherine McAuley High School, Natalie finished her sophomore year at Saint Joseph's College in June. In September, she put her collegiate career on hold to join the Benedictine Volunteers, a collaborative volunteer program that extends the mission and ministries of three Benedictine women's communities in North and South Dakota. Living with forty Benedictine Sisters, Natalie is serving individuals in need while deciding what God might be calling her to do with her life.
"Each day brings uniquely new adventures, each sister has her special gifts and talents, and I am blessed enough to get to spend a few hours with two or three sisters per day getting to know their role and their area of expertise that they share with the house," said Natalie. "One sister asked me to design three Taizé prayer events for some local youth who are eager about growing in their faith. I also met with the activities coordinator next door at the assisted-living facility. I will be working there with these new friends a few days a week."
She also hopes to help with youth ministry, the food pantry, and with prison outreach. Natalie says that the beauty of the area is nearly indescribable, and in the incredible scenery, as well as in her daily life, she is seeing God everywhere.
"In the hummingbirds that zip through the flowers, in the kittens climbing the trees, in the assisted-living residents who cheer on even members of the other teams during games, in the sisters who all smile when they see me come into the chapel every morning, He is so mighty and so real, yet so present, and such a great friend."
Her mother, Doreen Brown, says that Natalie was searching for more, and that the journey to South Dakota is providing the opportunity to look further into her faith.
"In her blog, Natalie answered the question, 'What made you choose South Dakota?'" said Doreen. "The answer was that God chose for her. Natalie took a leave from Saint Joseph's College and searched for a place of discernment where she could volunteer in ways she found meaningful. Although she has not yet learned God's plan for her future, she is listening."
For other young people interested in pursuing a mission experience, contact your local parish office or Ruth Oakley, the diocesan director of the Office of Missions/CRS, at (207) 773-6471.
---
One Person Makes a Difference, and Many People Make It Happen!
Alberta Messer, a nurse practitioner and a member of St. Michael Parish in Augusta, embarked upon a journey that will help to bring better health to many people living in Guatemala!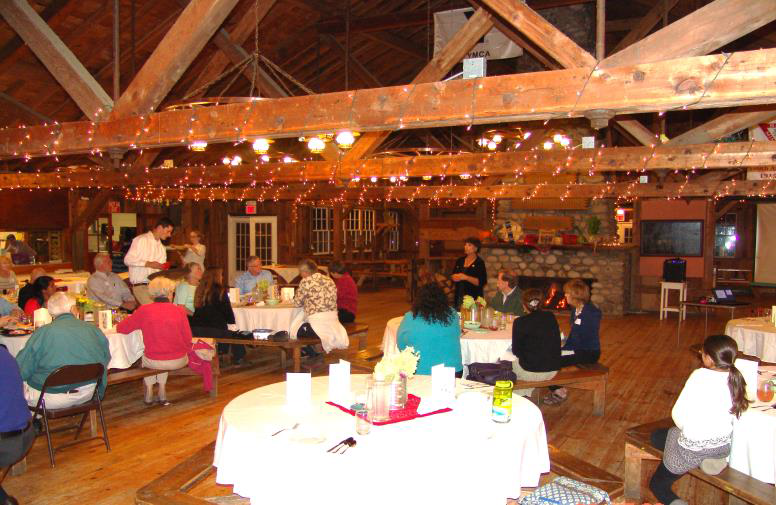 Alberta met with Fr. Emilton Rodriguez from San Benito Church in La Democracia. Fr. Rodriguez also presides over many villages around La Democracia, including El Pilar and El Aenal.
The passion and dedication of Fr. Rodriguez for his people moved Alberta's heart to join the work of bringing clean water to his parishioners and the people of the area.
Alberta single-handedly surrounded herself with professionals from many disciplines, including a chemist and water quality expert; an environmental planner; a district governor from Louisiana and Mississippi; a team from Guatemala directed by Fr. Rodriguez; four engineers; a Catholic Relief Services country representative; the Rotary Club members of Escuintla; social pastoral coordinators; and school representatives!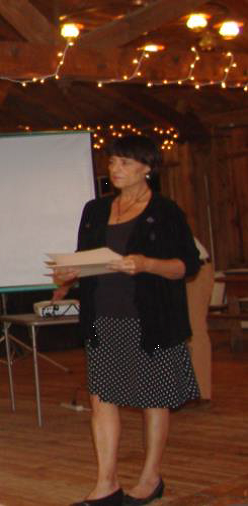 In order to grow support for this project, Alberta gave a presentation at the YMCA Summer Camp on September 27 in Winthrop, Maine, to introduce the Guatemala Water & Sanitation Project's team members. This included local religious leaders, local civic leaders, businesses, students, representatives of the Rotary Club from Maine, and non-profit organization representatives.
Several Mission Ambassadors were also present, representing the Missions/CRS Office of the Diocese of Portland. The ambassadors encouraged Alberta in her work on this water project.
There are many people in Maine who are "mission-minded," and we want to support them and encourage them!
---
Maine in Mission to Bolivia!
A dedicated group of Mainers took a mission trip to Bolivia on August 8-20, 2015. The journey was led by Ruth Oakley, Director of the Diocesan Missions/CRS Office, and also included individuals from New York, Washington D.C., and California.
The pilgrims visited and observed the work of the Maryknoll Lay Missioners in the country, and met with church workers, community leaders, and social activists.
Back Row: Barbara Snowadzky, Dan Burke, Fr. Dave Raymond, Ruth Oakley, Doug Fogg, Margaret Taylor, Gary Carr, and Fr. Frank Morin
Front Row: Charlotte Cook, Danielle Fogg, Santa Orlando, Deborah Blais, Janet Viere, and Jeanne Bigelow.
Orphanage for Little Girls
The group visited many ministries of the Maryknoll Lay Missioners. One ministry was with little girls at an orphanage called a hogar. Sadly, the children often live at the orphanage because their parents are poor and unable to provide proper care. The parents visit the children on weekends.
Cochabamba Soup Kitchen
Several group members were privileged to visit Fr. Roberto Lacasse (originally from Lewiston, Maine) at the Cochabamba Soup Kitchen where he volunteers.
"Grandmothers"
The group also met the "grandmothers" who come each week for supplies that they otherwise could not afford, like oil, flour, rice, & soap.  The grandmothers welcomed the visit and enjoyed the company of the Maine people!
The group also visited ministries like a hogar for little boys, a jail for men, a group making wheelchairs for the children, a learning center for learning disabled, and studied the empowerment of historically marginalized sectors of our society.
Coming Home
The pilgrims came home filled with gratitude and a heart more open to those who have so much less, and yet, so much to give: Faith & Joy! 
The group will be sharing its faith journey around the diocese and hopes you have the opportunity to hear about the experience.
If the Holy Spirit inspires you to help, there are many ways! For more information, email Ruth H. Oakley at: ruth.oakley@portlanddiocese.org.
---
Local Pilgrims Describe Mission Trip to Bolivia
It was our privilege to be a part of the first international mission trip for the Roman Catholic Diocese of Portland from August 7 - 21, 2015. Twelve people, including 2 priests from the Diocese of Portland traveled to Cochabamba, Bolivia, at the invitation of the Maryknoll Lay Missioners to become fully immersed in Bolivian culture, social issues, and the day-to-day work of the missioners. It was an incredibly memorable and life-altering two weeks!
Upon arrival, our first impressions were the smiles, hospitality, and warm welcomes we received from the Bolivians, yet we were clearly surrounded by such widespread poverty. While the per capita income in Maine is $27,000 annually, the Bolivian per capita income is just over $1,600. This discrepancy was obvious in many houses around Cochabamba that had been left unfinished, or were constructed haphazardly of scavenged materials. In traveling through rural areas, we saw many houses without electricity or running water, and we learned that water of any kind is scarce in Bolivia, and is often only acquired, either from catching rain, or at high prices from water companies. It seemed that every river over which we passed we saw women washing their clothes. Even in the Catholic Retreat Center where we stayed, we were asked to ration our water use and hot water was only available, as solar heating allowed, in the showers.
The Maryknoll Lay Missioners have been involved in Bolivia for the past 40 years. We visited "hogars" (homes for children who are orphaned, abandoned or abused) which are all privately funded as there are no government funds to care for these children. Many of these children immediately clung to us, starving for love and attention that there is no way they can receive in a home of 35-40 children staffed by only a few nuns and volunteers. Some of the children suffered from AIDS and Fetal Alcohol Syndrome. Some children had parents who would visit them on occasion, but could not afford to raise them. The children were required to do chores and were proud to show us how neat and organized their dorm like rooms with bunkbeds were kept and how they washed their own clothes by hand, even the three-year-olds.
We were very surprised to recognize Bill and Eileen Velickey, who attended St. Mary Church in Bangor with us back in the 1990s and have worked as Maryknoll Lay Missioners ever since in East Timor, Cambodia, and Bolivia. Bill has recently started, along with local artisans, a workshop making specialized wheelchairs for children with physical disabilities, a service which is totally lacking in Bolivia. Eileen, a physical therapist, consults with Bill, but also works with children with learning disabilities to strengthen their reading skills so they can succeed in school. There are no publicly funded special education services.
It was clear to us everywhere we went that the elderly are struggling, many begging on the steps of churches. We learned there is much elder abuse and homelessness. Another private ministry serving the elderly twice per month helps these "Abuelas and Abuelos" to find housing, receive government benefits (about $30 per month), and augments their diet with donated foods such as flour, sugar, and rice. These senior citizens seemed happy to receive what services were available and welcomed us and thanked us for reaching out to them. It was a humbling experience, to say the least.
Probably most uncomfortable, but also moving, was attending a mass celebrated at a men's prison in Cochabamba. Prisoners in Bolivia are not segregated by the seriousness of their crimes. They are all imprisoned together, regardless of charges. Many men had not yet been convicted, but as their is no bail system, they are forced to wait their court date in prison, living with murderers, rapists, and drug dealers. There are no cells and they are given $1 a day to provide for their needs including food. The guards remain outside, making sure the prisoners do not escape, but inside the prison, order is maintained by a prisoner government system. We were surprised to find many young children running around, and a number of women. If the main breadwinner is imprisoned, it is not at all unusual for whole families to move in as they have no other place to go. Despite horrid conditions and criminal backgrounds, we were all welcomed with warmth and respect by the inmates, and though we might have felt somewhat uncomfortable, we never felt unsafe.
The cultural highlight of our trip was witnessing the Entrada parade of the Festival de Virgen de Urkupina, a celebration of an appearance of the Virgin Mary to an indigenous shepherd girl hundreds of years ago. The parade, which continued for at least six hours, featured men and women, some in native costume, others in elaborate dance costumes dancing over a parade route of several miles, ending at the local Cathedral for a blessing by the priests. We witnessed over 40 groups of dancers, all accompanied by large bands, all dancing rather than marching. It made our Macy's Thanksgiving Parade look like a local homecoming parade! We were in awe!
We will be reflecting back on this trip for many years to come, but we couldn't help realizing how hard these people have to fight for any right, privilege, or comfort they have. Their faith is an integral part of their daily life, because they rely on God for everything. The Maryknoll Lay missioners are reaching out to partner with the Bolivians to improve their situation with love and dignity. There was little we could do in a two-week period that would change any lives, and, yet, these beautiful people changed ours. We come back more grateful, more joyful, and more connected to our brothers and sisters all over the world. Perhaps our charity - and our love - should begin at home, but it should never end there. God knows no borders.
Respectfully and prayerfully submitted,
Doug & Danielle Fogg
St. Paul the Apostle Parish, Bangor
---
Diocese of Portland Donates Over $86,000 to CRS Efforts in Nepal
A special collection held on June 13-14 at Catholic churches throughout the Diocese of Portland raised $86,484.24 for victims of the destructive earthquake and aftershocks that shook Nepal earlier this year.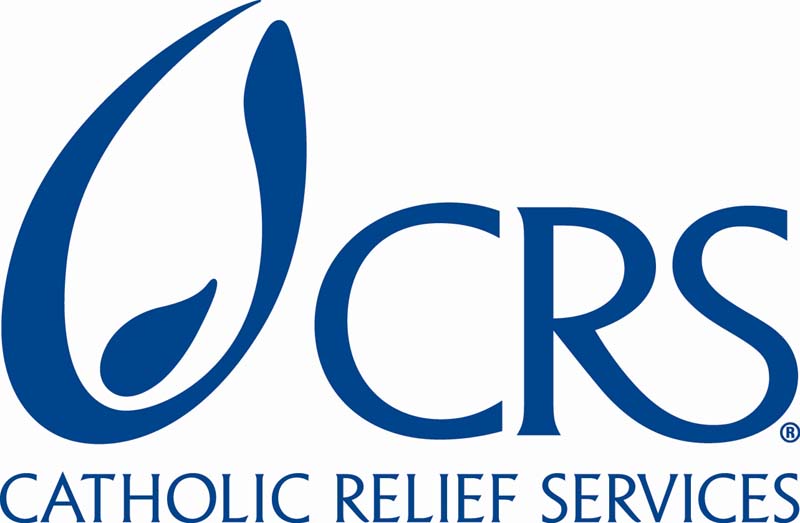 All of the proceeds from the collection will go to Catholic Relief Services (CRS), the official international humanitarian agency representing the Catholic Church in the United States.
"Allow me to express my gratitude to the many people in our parish communities for their generosity in helping to provide crucial relief and humanitarian aid in this time of devastation and suffering for the people of Nepal," said Bishop Robert P. Deeley. "The charitable giving of the people of Maine once again rose to meet an enormous challenge affecting people we will never meet. Yours is the charity of Christ. Please join me in continuing to keep the thousands of individuals and families affected in our prayers."
Read the full story by clicking here.
---
The Presence Radio Network's Interview with Tom Hollywood
In early August, The Presence Radio Network aired an interview with Scarborough native Tom Hollywood, now a zonal representative to South America for Catholic Relief Services.
To hear the interview in its entirety, click here.
---
Making a Difference from Wayne to Guatemala
Thanks to the efforts of Alberta Longone-Messer of St. Michael Parish, children from the Escuintla region of Guatemala have access to safe drinking water, a lack of which shortens life spans and increases infant mortality. To read a wonderful article about Alberta that was published in the Portland Press Herald in July, click here.
---
All Saints Parish Teens Set for Summer Mission Trip
In June, a group of 28 teens and four adult leaders from the Brunswick area will embark on a weeklong mission trip to Philadelphia for a residential experience of living as a disciple of Jesus through prayer and service to the poor. The students will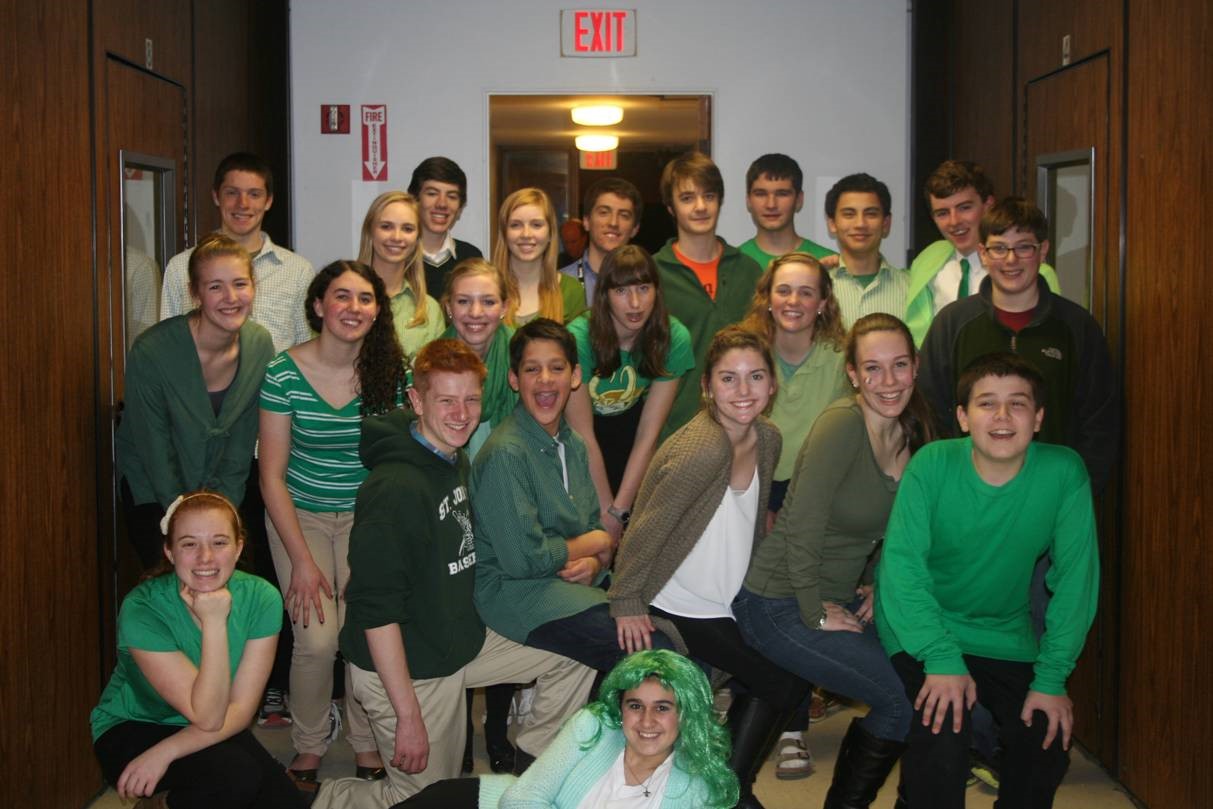 sleep at a church hall at night and spend their days assisting at food banks, food pantries, soup kitchens, community gardens, and homeless shelters while also visiting residents at assisted-living homes. The trip, sponsored by All Saints Parish in Brunswick, is being planned and hosted by YouthWorks, an ecumenical organization which specializes in organizing life-changing mission trips for teenagers by providing them the opportunity to be like Jesus in the ways they love and serve others.Parish leaders have observed the spiritual impact of the mission trips on the participants. In recent years, students have returned from the trips and become involved locally at nursing homes, soup kitchens, and homeless shelters.
Read the full story by clicking here.
---
South Portland Kids "Adopt" Zimbabwe School
When Holy Cross Catholic School Principal Christine L'Abbé visited a village school during an African safari in March, she didn't expect to discover an opportunity to teach her students in South Portland about generosity, friendship, and what it truly means to help those in need, even people they'll never meet.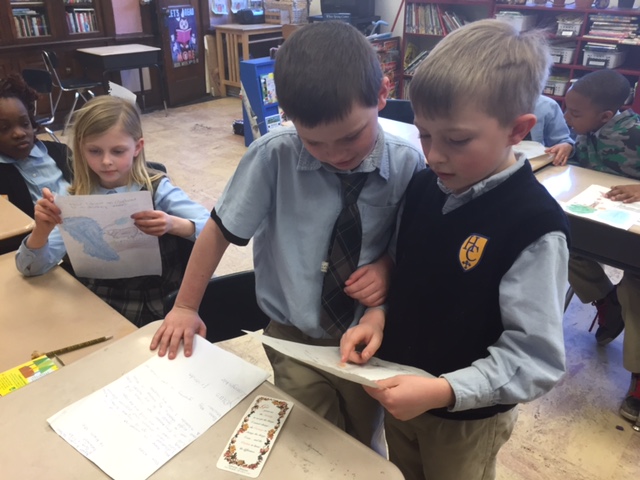 "Our guide led us to the Ngamo Primary School in Zimbabwe," said L'Abbé. "I had brought letters from our kids at Holy Cross and Holy Cross shirts for the teachers and staff. While we were there, we learned that students are sent home if they can't pay their school fees. I couldn't believe it. The school fees are $10 a trimester, and $30 for the year. Yet, many can't afford to pay it." 
Upon returning to South Portland, L'Abbé shared the story with her students and staff and found their response to be nothing short of extraordinary. Immediately, the Holy Cross community decided to "adopt the school" and began brainstorming ways to help. The students started a Tootsie Pop sale, which is ongoing, held bake sales, and have started to collect change in all classrooms to raise money for Ngamo students who can't afford the school fees.
Read the full story by clicking here.
---
St. John's Students Collect Money for Earthquake Victims in Nepal
Each day at St. John's Catholic School in Brunswick, students are encouraged to show kindness, respect, and concern for others. In May, St. John's students searched high and low for pennies, nickels, dimes, and quarters with all of the proceeds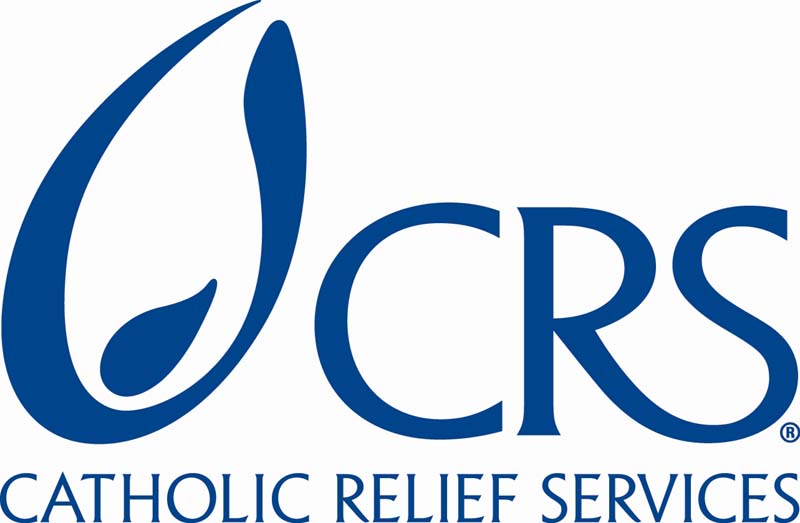 to be donated to provide support for Catholic Relief Services as they address relief and recovery efforts for those impacted by the destructive earthquake in Nepal on April 25. The students are further energized to support those affected after hearing about the community firsthand from Darren Wallach, a social studies and religion teacher at St. John's. Wallach, a Cheverus High School graduate, served in the Jesuit Volunteer Corps in 2004-2005 and taught English and environmental studies at St. Xavier's School in the Kathmandu Valley, one of the areas hit hardest by the earthquake.
Read the full story by clicking here.
---
Catholics in Augusta and Fort Fairfield Make Nearly 900 Mission Rosary Beads for Students
A simple conversation between friends has led to dedicated Maine Catholics gathering together in Augusta and Fort Fairfield to create mission rosary beads for 883 students in the Dominican Republic.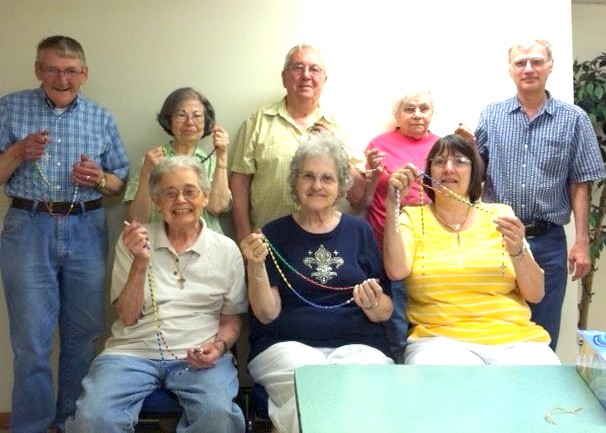 While attending an annual Pontifical Mission Societies meeting this year, Ruth Oakley, the Director of Pontifical Mission Societies and Catholic Relief Services for the Diocese of Portland, encountered Sr. Annita Peter, principal of St. Luke's Primary School in the Dominican Republic community of Pointe Michel.
"She shared her dream of someday providing mission rosary beads for each of her students at the school," said Ruth. "When I offered to help find people willing to make them for her children, she was so touched that kind people would help her prayers be answered by creating these mission rosary beads."
Read the full story by clicking here.
---
Helping Students in Uganda
The moment that students at St. John's Catholic School in Brunswick were told what was happening at Mbabaali Memorial Nursery and Primary School in Kampala, Uganda, they knew they had to help.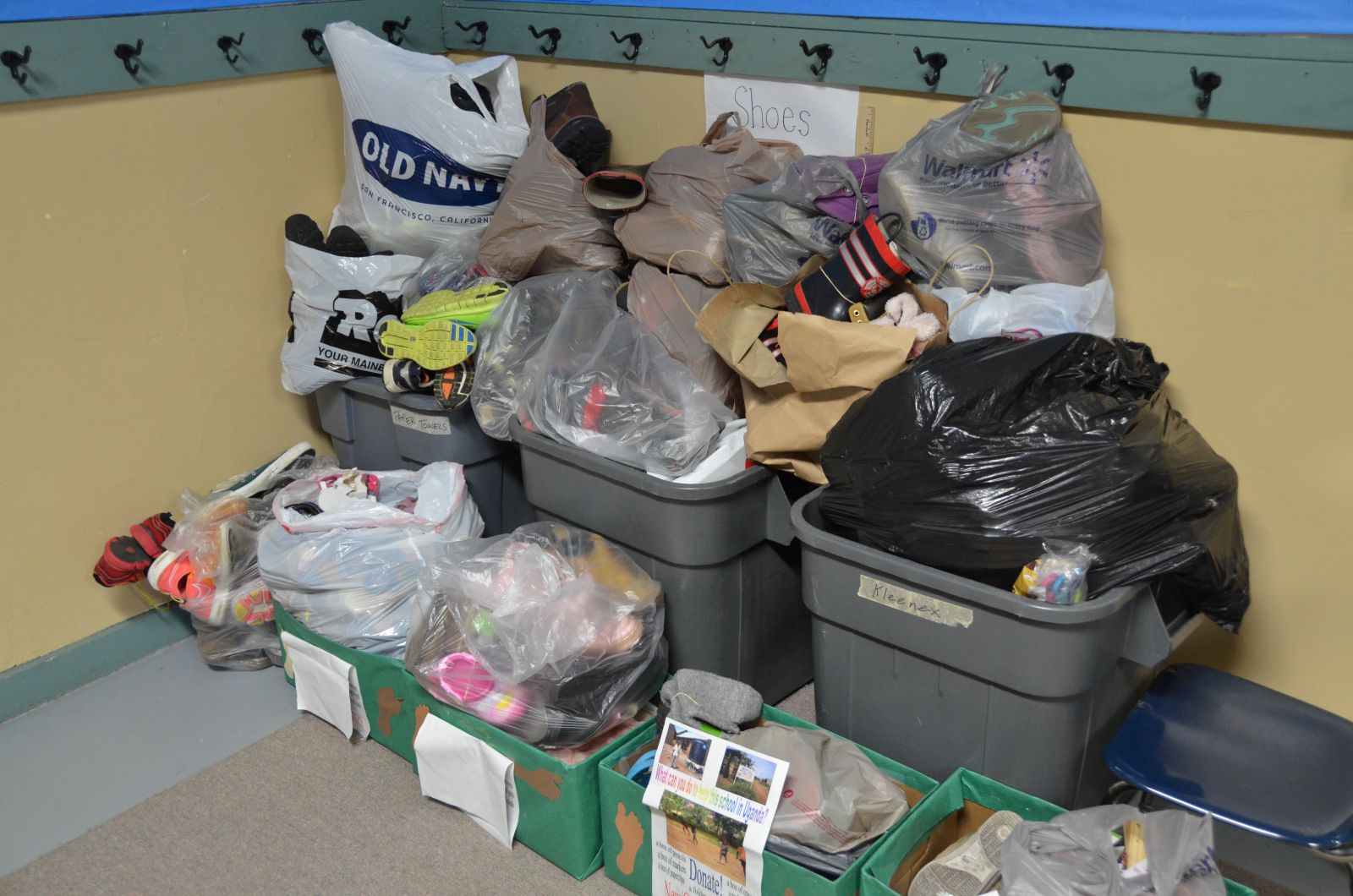 "We explained that for the children of Mbabaali, shoes mean that they can attend school. Without them, they can't," said Jaline Cogswell, the pre-kindergarten teacher at St. John's. "The shoes protect their feet from parasites that permeate the soil and get into the children. With Kathleen Curry, our kindergarten teacher, we wanted to do something as their student body is comprised mostly of AIDS orphans. Right away, our students were motivated to make a difference."
"Operation Mbabaali," spearheaded by St. John's pre-kindergarten and kindergarten classes, began in early September as boxes to collect shoes and supplies were placed around the school and letters were sent home to parents. By the end of the collection on Halloween, the students had gathered 267 pairs of shoes, sneakers, slippers, sandals, and boots, as well as various school supplies that included pens, crayons, markers, notebooks, folders and glue sticks.
Read the full story by clicking here.
---