Fr. Michael Seavey is parochial vicar of St. Anne Parish, Gorham; St. Anthony of Padua Parish, Westbrook; and Our Lady of Perpetual Help, Windham.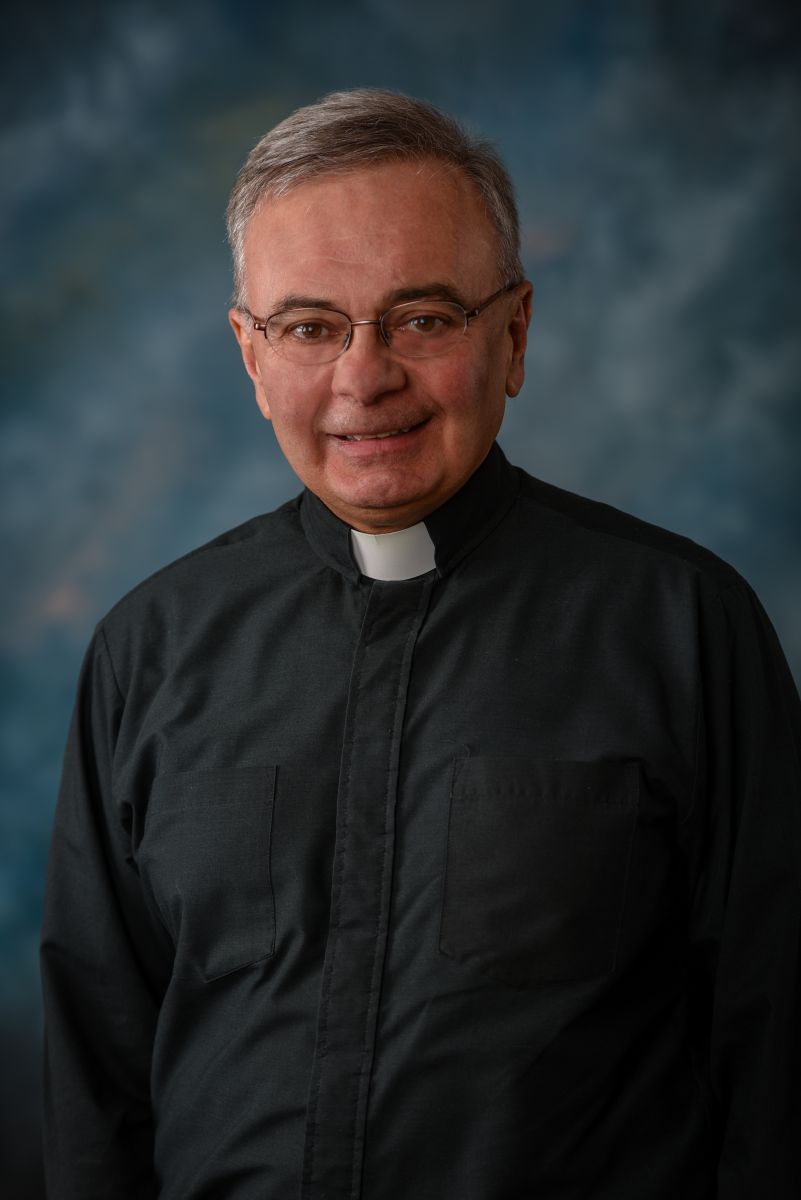 In addition to his diocesan responsibilities, Fr Mike also makes time for issues related to Catholic social teaching, particularly issues of workplace justice and immigration, as he advocates for low-income workers and secures rights for workers here as refugees, immigrants, and those seeking asylum.
Fr. Seavey's blog begins below. To view his seven-part series explaining the Catholic Church's teachings on immigration, click here.
Fr. Seavey co-wrote two articles for the Maine Sunday Telegram addressing the collapse of Rana Plaza in Dhaka, Bangladesh, which killed more than a thousand people and injured more than 2,500. Many of those killed and injured were migrant girls who were employed in a garment factory in the building. To view the articles: Maine Sunday Telegram, April 27, 2014 / Maine Sunday Telegram, June 9, 2013
---
The Healing of Ten Lepers
"Fall guys" and scapegoats have been prominent targets on both sides of the presidential election this year. Such tactics serve to generate more fear and less community. Many unfounded or discredited accusations have taken American politics to new lows, and lowered the bar of decency and acceptable standards of political discourse. This is a profound moral issue needing to be addressed as such. We need to listen to the many voices of our political life and discern what is good even if we are in disagreement and reject what is divisive even if in agreement with goals that are worthy. But before we decide who to welcome and who to reject, we should first remember our own history as Catholics in the United States and the fear generated among many convinced of our malicious motives. We must avoid at all costs the attitude of the nine lepers who can't see new opportunities to discard old prejudices and divisions. Read Full Entry
---
A Small Seed Waiting to Be Harvested
Generous and compassionate service can heal wounds and quiet rage in human hearts. I often wonder if so much anger in our nation comes from a feeling of detachment, a sense of abandonment, a simple lack of care and being cared about. The ultimate face of evil is the death of compassion; something we all have the ability to respond to. Most of the time, it will be simply continuing to do what we are already doing. Read Full Entry
---
Two Rich Men and Lazarus
An old and wise proverb can assist us to open the mysteries of this parable, "Wealth is a loyal servant but a demanding master." This parable is often referred to as "The Rich Man and Lazarus." But that is the wrong name for this parable. It is not about "one rich man" and Lazarus. Rather it is about "two rich men" and Lazarus. Abraham mentioned in heaven with Lazarus in his bosom was also a rich man. Of the two rich men, Abraham is in heaven and the other, unnamed, is in a place for the damned. The poor man Lazarus is also in heaven but we know nothing of his life to appreciate why he ended up there. But we do know of Abraham and the other rich man. Read Full Entry
---
Reality of Sin
Throughout the gospels, Jesus uses parables to reveal the Kingdom of God in daily life. He only uses those events of daily life people would be familiar with. His parables are about a fisherman casting a net, a woman baking bread, a shepherd looking for the lost sheep, the woman looking for a lost coin, the farmer casting seed on to the soil, invitations extended to a royal wedding banquet, or a grower hiring workers for his fields. Read Full Entry
---
Works of Mercy
In the history of the Catholic Church, especially in times of either great oppression from outside the church or great corruption within the church's life, the works of mercy served to cleanse the church, renew her and revive her life in the wider world. The simple and gentle works of care and consolation became powerful experiences for healing and restoration for entire countries. Read Full Entry
---
Seeing Humanity
Are there people in our life we often ignore their full humanity? They might be people we see but dismiss, people we take advantage of, people we can take for granted. Seeing them again in a completely new way enables us to see their complete humanity. This new way is seeing others and the whole world through the eyes of the glorified humanity of the Risen Christ. How is this possible? Read Full Entry
---
Pursuit of "Perfection"
Every religious movement has its own recipe and paths for perfection, and often many secular cultures and societies adopt their own standard for becoming perfect. For American culture and society, perfection is often summed up in one word "winning." If we are winning or sometimes "winning's" first cousin "succeeding," we are moving to perfection. This path of perfection brings with it a lot positives to our society and nation. We have the world's strongest economy and the most powerful military. At the same time, this path also brings considerable negatives including great stress and pressure young people often experience to succeed and win beyond their own capacities. Read Full Entry
---
"Strive to enter through the narrow gate..."
Over centuries and millennia, saints, mystics and spiritual writers have reflected on this image of the "narrow door" that Jesus speaks of in this passage from St. Luke's Gospel. Synthesizing their meditations could come in these words, "The wider we live our lives, the narrower our heart will be. But the narrower we live our lives, the wider our heart." Read Full Entry
---
The Peace of Christ
When Jesus says in the gospel, "I have come not for peace but for division," the peace Jesus rejects is the attitude of burying deep wounds, tolerating abusive behavior, living with exploitation and hateful racism. That is a false peace that has nothing to do with the Kingdom of God. Read Full Entry
---
Encountering the Living God
Mark Twain once said, "There are two important days in your life. The first is the day you were born and the second is the day you found out why." Read Full Entry
---
Farewell to Portland
On August 1, Fr. Seavey began his appointment as parochial vicar of St. Anne Parish, Gorham; St. Anthony of Padua Parish, Westbrook; and Our Lady of Perpetual Help, Windham.
Prior to his departure, he wrote a farewell column to parishioners and community members in Greater Portland.
---
Jesus Visits Martha and Mary
Probably forty years ago, sitting in the pews where you are seated now, I listened to the priest preach on this gospel passage. He first indicated this gospel was about a hierarchy of "work" in the faith life. When Jesus said, "Mary has chosen the better part," he meant that Mary learning from Jesus was more important than the kitchen work Martha was doing. I looked around and noticed many women, several of whom were mothers of good friends of mine, looking somewhat agitated by that remark. Read Full Entry
---
Gift of Speech
We all know the power of words in our life. We remember those times we struggled, faced tragedy or personal failure. We remember the offers of assistance and the power of kind words spoken at those times even when we were necessarily challenged. We would also remember any caustic put downs, the bitter satisfaction or a dismissive silence of those who were supposed to care about us and care for us. We know the power our spoken words have as well. Our ability to speak words of kindness, challenge, and support; or speak words of rejection, scorn or cutting criticism affects lives of others as well. Read Full Entry
---
First Anniversary of Laudato Si'
This month marks the first anniversary of Laudato Si', Pope Francis' groundbreaking encyclical on global warming and environmental responsibility. The encyclical placed papal authority squarely on the issue of global warming and humanity's irresponsible behavior fostering the conditions allowing it to develop. Pope Francis did an exhaustive study on the issue before writing the encyclical and as a former science teacher in Jesuit schools, he had a background to do so. Read Full Entry
---
Joyful Call to Mercy
We are told constantly that the church is considered irrelevant, and we need to make the church relevant again. We all too often look for some elaborate plan or social media solutions to make this happen. But French Catholics discovered in the late 1800's that simple works of mercy, touching the many wounds of our world, are far more effective and far more worthwhile. Read Full Entry
---
Do You See This Woman?
Compassion does not neglect or dismiss the wrong that is done. Rather, it looks deeper into the soul beyond the hardness, the malice, the destruction, the selfishness. Compassion does not dismiss the need for justice but helps clarify our desire for justice and its confusion with We are told constantly that the church is considered irrelevant, and we need to make the church relevant again. We all too often look for some elaborate plan or social media solutions to make this happen. But French Catholics discovered in the late 1800's that simple works of mercy, touching the many wounds of our world are far more effective and far more worthwhile.a desire for revenge. Read Full Entry
---
Response of Mercy
Human suffering needs to open our eyes to the common ground that we all share one humanity, the only humanity there is. A response of compassionate mercy then creates more common ground where wounds can be healed and community can grow strong. Read Full Entry
---
Solemnity of Corpus Christi
Because of the presence of the Body and Blood of Christ on the altar, we can gather with our parish community and not despair of how far we consider ourselves to be from the life of Christ. The Lord's Body and Blood under the signs of bread and wine call us to become the life of Christ, cleanse us from what leads us away from Christ, nourishes us to continue the journey of becoming one with Christ, and opens our heart to greater love of God and of all the people we gather with. Read Full Entry
---
Pentecost
We live in a state where the Catholic Diocese encompasses the entire state of Maine. Therefore, what is factual about the state is often factual about the Diocese of Portland. Census data informs us that the population of Maine is getting older, sicker, and poorer. If true for the state, then also true for the diocese as well. How we receive that information determines whether we become discouraged or charged with hope. Does God abandon us because we are older, sicker or poorer? Is that what the New Testament claims is true about God? Our diocese is a divine creation. The power of the Holy Spirit working through the Sacraments has gathered, built up, united, healed, forgiven, anointed, called, and sustained our diocesan life. Read Full Entry
---
Conscience Formation
In the life of the Church, Christ delivers his identity over to us. In his identity, we do not dissolve into a mass of mob. Rather, in the Risen Lord, our identity is brought to its fulfillment and completion. While darkness hovers over mob mentality, the identity with Christ casts a light of discovery, and a path to justice, forgiveness and ultimately reconciliation. If conscience formation disappears in mob mentality, conscience formation develops in most difficult circumstances in the life of the church. The lives of the saints, particularly the lives of the martyrs are witnesses to this conscience development and become examples for us to imitate. Read Full Entry
---
What Do We Do Now?
In the gospel, Jesus is gathered with the disciples at The Last Supper. The Lord prepares them for the transition of his dying and passing from this world to the Father in heaven. His disciples cannot comprehend the Son of God experiencing death, let alone being tortured and sentenced to death for crimes he was not capable of committing. Yet, such would be the case, leaving the disciples scattered in grief and hiding in fear. Read Full Entry
---
The Octave of Easter
God destines all our wounds to be healed by the wounds of the Risen Jesus. God also uses our wounds, now redeemed and healed by Christ, to heal others. We need to choose God's healing. Our wounds can isolate us and lead us to cycles of anger, retribution or corrosive bitterness.  We can use our wounds to manipulate or control others with self-pity and guilt. We can turn our wounds inwardly and continually harm ourselves. Or we can let God's mercy touch our wounds and then with others form and shape communities based on mutual care and respect, justice, and forgiveness. The strongest communities are those built on the healing of common wounds. Read Full Entry
---
Easter
Resurrection becomes the lens through which we view the world. The glorified humanity of the Risen Christ becomes "the end all and be all" of what it means to be truly human. Through that lens we interpret our own life, the lives of family and friends, and the life of all communities as to whether or not they build up or tear down a truly human identity. Read Full Entry
---
Passion Sunday
Judy Collins sings of Jesus watching all of us from "a lonely wooden tower," a symbol of the cross. When Jesus stretched out his hands on the cross, he rescued all of us. But why can "only drowning men" see him? Read Full Entry
---
The Woman Caught in Adultery
A woman caught in adultery (although there is no sign of the man she was with) is brought before Jesus to decide what judgement she deserves. In his response, Jesus is clear that while mercy does not close the eye to sin, it opens the heart to the sinner. Read Full Entry
---
The Prodigal Son
When considering the prodigal son in our present time, we almost always consider him to be an individual. But there are times when the prodigal son is a group of people, even a large group of people. Sometimes the prodigal son can be an entire generation, maybe even my generation. In many ways, the prodigal son is the last couple of generations that squandered an inheritance on dissolute living, refusing to acknowledge the price tags and running up debts in many categories. Read Full Entry
---
Burning Bush
Moses' encounter with the living God is one of the most dramatic and important epiphanies in all of Sacred Scripture. From the burning bush God calls out to and reveals himself to Moses.  Moses experiences great paradox at the burning bush. His experience of God seems to raise more questions than before and settles none of the older ones. Read Full Entry
---
Encounter with Mercy
The encounter with mercy occurs in our daily life in the midst of our daily activities. Christ is still in our midst Incarnate and Risen. The Lord is present with us every moment of our day. How do we imagine Jesus looking at us? Do we live in fear of seeing a look of disappointment on Jesus face? Or perhaps a look of anger? In spite of their great failings and sins, that was not what St. Peter, St. Paul or any other person saw when they realized Jesus looking at them. Read Full Entry
---
Wisdom vs. Information
Wisdom is an action involving the mind and the heart as information becomes analyzed, and measured by such spiritual realities as human dignity, the common good, and moral responsibility. Information can become simply superficial but wisdom runs deep into the interior of our heart and souls. Read Full Entry
---
St. Francis de Sales
St. Francis de Sales chose a different path. He believed that combining a spirituality of interior transformation with a daily life of intentional love would restore the church. The rigorists criticized St. Frances for promoting a road to sainthood that was far too easy. But St. Frances believed differently. Maintaining such intentional love and gentle peace in the face of constant scorn, ridicule and even violence is a great challenge. This interior peace persevering such abuse and radiating outwardly would be the attraction opening hearts to God. Read Full Entry
---
Solemnity of Mary, Mother of God
The Blessed Mother conceived the Prince of Peace in her womb and gave birth to this same Prince of Peace. In her story, we find our life. We are called to conceive this Prince of Peace in our hearts and to give birth to the Prince of Peace in our daily lives. Read Full Entry
---
Holy Family
Children can teach us a lot about what "holy families" are. Read Full Entry   
---
Christmas
Begin this Jubilee Year discovering the length and depth and height of God's love for you and the power of God's mercy in your life. Simultaneously, discover the depth of your ability to grow mercifully toward others. Read Full Entry
---
Visitation
Our society today promotes a rugged individualism often claiming, "I don't need you and you don't need me. I am all I need." Combine that with the great fears inflicting us can become a society enduring great isolation and loneliness. Into these vacuums many demons enter. Our call is to live lives of visitation in the name of God. Read Full Entry
---
Moral Choices
Sometimes the moral life is so obvious we need someone else to point out the right choice for us. There can be a raging blizzard outside and even though we cannot open the garage door let alone get the car out of the garage, we need to hear someone else tell us, "stay home." Read Full Entry
---
God's Word
God's word moves to where it can stir things up, kick up a storm, create a disruption. God's word travels to the least likely places, stirring within the least likely people moving towards the least likely destinations. God's word is unpredictable, unexplainable, and forever beyond our ability to understand. Read Full Entry
---
Jubilee Year of Mercy
Pope Francis has emphasized God's mercy since his election and this Jubilee Year is a wonderful way of both celebrating God's mercy in our own lives and becoming sources of mercy for the world around us.
Read Full Entry
---
Solemnity of Christ the King
Last Saturday I attended a wedding in Rhode Island and was asked to offer a blessing at the banquet following the ceremony. Although I had spent a lot of time preparing the blessing, the events in Paris the night before led me to offer an unscripted prologue taking into account the terrorist attacks. The carnage was on all our minds and the topic could not simply be avoided nor could we pretend it had no effect on us. I offered to the approximately 200 wedding guests gathering with tremendous joy and enthusiasm that "our time to celebrate should not be seen as merely a distraction from the morning's horrific headlines. Rather we should see our gathering as a response, a response from God. Evil's works are known when malice divides with fear and hatred. God's works are known when love gathers and unites. Read Full Entry
---
Experiences During Papal Visit: Part II
In addition to sitting in the House gallery to witness Pope Francis' speech to Congress, I was also able to read an advance copy earlier that morning. The written words themselves brought tears to my eyes as I read the beauty and poetry of his thoughts. I have selected five significant quotes from that speech and offer my own commentary. Read Full Entry
---
The Right Number
During my two days in Washington D.C., Senator King also invited me to sit in on his staff meetings with various discussions on both domestic and foreign policy. I must admit that sitting in on those meetings stirred the juices of earlier desires to enter that career and again realized how much I would have loved that type of work. I share this story because I relate to the man who approaches Jesus and kneels before him. Following graduate school in Minnesota and receiving a Masters' Degree in Public Policy, I began to wrestle with the felt call to priesthood. After completing six years of study and hoping to return to Maine, and eventually hoping to marry and raise a family, I was convinced that God had dialed the wrong number. Read Full Entry
---
Realities of Divorce
When divorced people are able to move forward in their life, they manifest the healing power of the cross and the mercy of God. In an ironic sense, divorced people testify to marriage's great sacramental beauty as they grieve its loss much like widowed people grieve. Read Full Entry
---
Pope Francis' Visit to the United States
On September 23, I was the guest of Senator Angus King at a White House reception welcoming Pope Francis. The following day, he arranged for me to sit in the gallery of the US House of Representatives while the Holy Father addressed The Joint Session of Congress. Having known Angus since I was 18 years old, this gift was an opportunity of a lifetime and beyond my ability to imagine. Read Full Entry
---
Compassion and Commitment
The photo of the body of three year Aylan Kurdi washed ashore on a Turkish beach in the refugee crisis captured and broke the heart of almost the entire world. Although over 140,000 have died in Syria since the civil war began, including seven thousand children, the photo of one child brought home the evil of war and the massive humanitarian crisis. We can see and hear the numbers of those fleeing so many war torn areas of our world. But the photo of one child's body suddenly gives the story "a human face" the numbers all too often simply can't convey. Read Full Entry
---
Deeds First, Then Words
If we say "Jesus is the Christ," those words of faith need to be translated into action of daily life. The words of faith without the action in St. James words, become "dead." By the same token, "the actions without words" can become self-serving and vainglory instead of "God serving and giving glory to God." Read Full Entry
---
Speaking Kindness
Curt Schilling is a retired major league baseball pitcher completing his career brilliantly with the Boston Red Sox. Last spring, his daughter Gabby was admitted into Salve Regina College in Rhode Island, and like a proud dad, he posted the good news on his social media account along with a picture of his beautiful daughter. Read Full Entry
---
Chastity
"Chastity" conjures up images of 'joyless prudes with rigid, uptight understanding of sex. Poor, repressed souls, pious perhaps but always uptight and often self-righteous as well.' These are false stereotypes that do not reflect people who live their life chastely. People living chastely often are more joyful, and form the strongest and more trusting relationships and friendships. Read Full Entry
---
The Whole Christ
Holy Communion places The "Body" and Blood" of Christ into our hands or on our tongue or to our lips. But ancient Hebrew understandings of these terms teach us to receive one's Body and Blood is to receive the whole person. The whole Christ is present under the signs of bread and wine on the altar. The whole Christ is given to us as gift in the form of Holy Communion. Read Full Entry
---
The Real Presence
Our mission is not to bring Christ into the world. Christ is already present there. Rather, our mission is to witness the Lord's divine presence to others unable or unwilling to acknowledge Him in their daily lives. Uncovering this truth brings the light of God's merciful love as liberating truth. Read Full Entry
---
Solidarity
Solidarity requires us to see ourselves and see the world around us through the vision of the Risen Lord. We are to re-evaluate our own values and society's values through the lens of morality flowing from the glorified humanity of Christ. We are to seek the healing and renewal of the human community empowered by the presence of Christ in the Eucharist. Read Full Entry
---
Joy is Discovered in the Eucharist
When we join our life to the Risen Lord's and when we imitate his offering of life as a sacrifice of gratitude and sacrifice of praise, we discover joy. We discover "joy" because we come to realize the value God places on our life. Read Full Entry
---
Love Takes Imagination into Infinity
Many years ago, I offered a children's homily and began by asking this question, "Your English teacher has given you an assignment to write an essay. You are asked to write three typed written pages, double spaced, with correct spelling with everyone using the same font and the same font size. You follow all the instructions to the exact detail, but you don't write a good essay. Do you expect to get a good grade?"
One young girl responded to the question: "No, because we didn't use our imagination." Jesus asks Philip a question to test him. Read Full Entry
---
What is Our Vocation?
We are sent out to tear down walls of hostility throughout our society, communities and throughout the world. There are many walls and barriers in our world and society today. Some walls are physical and visible. Other walls are less visible but as divisive. Walls between the haves and have nots keep many from realizing their full potential as humans in the human community. Read Full Entry
---
Why Do We Need the Church?
This reality helps us respond to the question confounding our society and culture. "Why do we need The Church?"  Why Church at all? "I can be with God in the beauty of nature and in the warmth of my own home." That is true as well and need not be denied or minimized. We are indeed called to relationship with God in a personal way and we are called to find God everywhere. But that is not the full realization of God. Read Full Entry
---
"Can Anything Good Come from Nazareth?"
Removing the Confederate flag is but one of many conversations our nation needs to engage about many issues. What is the common moral horizon under which we need to live as a nation of freedom and justice? What symbols continue to divide us and keep us from reaching that moral horizon together? What symbols summon us together as a nation where a diverse people share the only human nature we have? Read Full Entry
---
God's Mustard Seeds
Throughout the two plus millennia of Catholicism, it is often one man or one woman in a challenging set of circumstances called by God to take a stand against a prevailing social catastrophe or to change a prevailing attitude within the Church itself. Read Full Entry
---
The Most Holy Trinity
The truth of The Most Holy Trinity is one of the greatest and most important truths we profess. Read Full Entry
---
Asking the Right Questions
One of the most dangerous questions we can ask is, "What's in it for me?" This question contains the five most dangerous words in the English language. Read Full Entry
---
Among the Saints
The greatest of saints are those who love, and love with the very love of the Lord Jesus Christ. The saints never stopped loving and never stopped growing in love. They grew in the Lord's love for them and grew in loving others with God's own love. The saints loved regardless of social status, ethnicity, family of origin, personal background, or past sins. They loved and grew loving those most marginalized, most excluded, and most convinced they simply do not measure up or belong. Read Full Entry
---
Time to Sing His Tune
St. Barnabas provides a wonderful model for a ministry so desperately needed in our church, society and world today. Recognizing the terrible and hostile divisions separating us, ministries of breaking down barriers separating and building bridges uniting are essential. Transforming hostility into hospitality might be one of the greatest ministries in the church today. Read Full Entry
---
Good Shepherd Sunday
If our voices and hearts are shaped by Our Good Shepherd, those in our care will also discover freedom and the joy of following Christ. They will be offered the opportunity to discover their true identity and the divine dignity already sealed in their heart and soul. Read Full Entry
---
Living Mercifully: The Two Streams of Mercy
Mercy is perhaps the most endearing quality of God. Mercy is impossible to define, defies logic, is beyond words to accurately describe, and is unreasonable in its experience. But mercy is positively true and undeniably real. Read Full Entry
---
Good Friday
Lampedusa is an Italian island off the coast of Sicily. A population of 4500 lives on this island's landmass of about 8 square miles. For many decades in the last century, the island made few waves in daily news and was of little strategic importance. During World War II, the garrison of Italian soldiers defending it surrendered to 100 British soldiers when they ran out of water. Read Full Entry
---
Resuscitate or Resurrect?
Early in my seminary training, I made the mistake of asking a faculty member a question while he was trying to read the morning newspaper with his first cup of coffee. This professor's class on St. John's Gospel had recently focused on the raising of Lazarus. I asked, "How can we say that Jesus is 'the first born of the dead' when Lazarus was resurrected prior to Jesus?" Read Full Entry
---
"Unless the grain of wheat falls to the ground and dies…"
Earlier this week, we celebrated St. Patrick's Feast Day. While the Blessed Mother under her title of The Immaculate Conception is the patroness of our diocese, St. Patrick along with St. John Baptist are secondary patrons of our diocesan family and diocesan life. St. Patrick's life offers a great witness to our own times and the troubles we face in the world today. Read Full Entry
---
Contemplating the Pierced Side of Christ...
Early in his pontificate, Pope Benedict XVI issued an Encyclical entitled "God is Love." In that teaching he wrote, "Jesus death on the cross is…love in its most radical form. By contemplating the pierced side of Christ, we can understand the starting of this encyclical letter 'God is Love.' It is there that this truth can be contemplated. It is from there that our definition of love must begin. In this contemplation the Christian discovers the path along which his life and love must move." Read Full Entry
---